About
Luke was born in Adelaide, South Australia, but grew up on the north coast of New South Wales in a small surf town called Coffs Harbour. He has a younger brother, Jordan, and even though he is younger, Luke looks up to him a lot because he feels he has always been so much more talented than him at everything from surfing to playing the guitar. Jordan currently lives in Wollongong and is behind alternative rock/blues duo Los Pintar. Luke also has two younger sisters, Georgia and Paris, who are eighteen and fourteen and still live in Coffs Harbour, so he tries to go back as much as he can. Luke stayed in Coffs Harbour, pursuing a Bachelor's degree in psychology until the age of twenty-one, when he decided to start migrating down the east coast of Australia, working in various bars and restaurants (surfing and his university degree started to take a back seat around this time). He ultimately found him-self in Melbourne, quickly falling in love with the city and also his partner, Aki Nishikura, who is also his business partner and, in fact, the brains behind Operation Dagger, the bar they opened together in Singapore. "I get way too much credit," Luke explains. After working in the hospitality industry for over ten years, Luke's job had become a huge part of his life and identity. Considering this, he decided he'd rather do it for himself than for someone else's dream, thinking, "Wait a minute, why am I working so hard for someone else, giving up all my ideas, when I could do this for myself instead?" The idea to open Operation Dagger came in 2013 through Ryan Clift, whom Luke worked for back in 2009 at the Tippling Club in Singapore during a stint in the city.
Operation Dagger
In terms of what Operation Dagger should be, it is simply an extension of Luke's and Aki's ideas made into reality, and offers the opportunity for people to experience something new and escape the mundane even if it is just for a small moment. At the end of the day the aim is to explore the unknown and head down the road less traveled. Operation Dagger sits thirty-six guests and the team includes six local bartenders, alongside Aki and Luke. The menu is changed every three months. The unusual but very stylish interior was done by Luke and Aki and it includes many personal art inspirations such as a light bulb cloud which was inspired by Jeff Wall's photo piece Invisible Man. The minimalist logo was created by Luke's favorite artist, Jean-Michel Basquiat. Other artist references include Dan Flavin and Jonas Dahlberg.
Inspiration
Inspiration lurks in day-to-day life and around every corner! It is one of the things Luke loves about his job. Sometimes it can come from eating at a great restaurant or even going back home to his mother's kitchen. Other times, it's a lyric in a song, a scene from a film, or a piece of art in a gallery. And sometimes it's as simple as a conversation with someone, or a phrase out of someone's mouth. Inspiration is everywhere; we just have to open ourselves up to it.
Favorite Cocktail
Piña Colada! It's a drink that is usually drunk when having a good time or on holiday, so even if it isn't the best-made or best-balanced drink, it's still amazing every time.
Check out Luke's recipes: Applebush, Bee Pollen and Hot & Cold.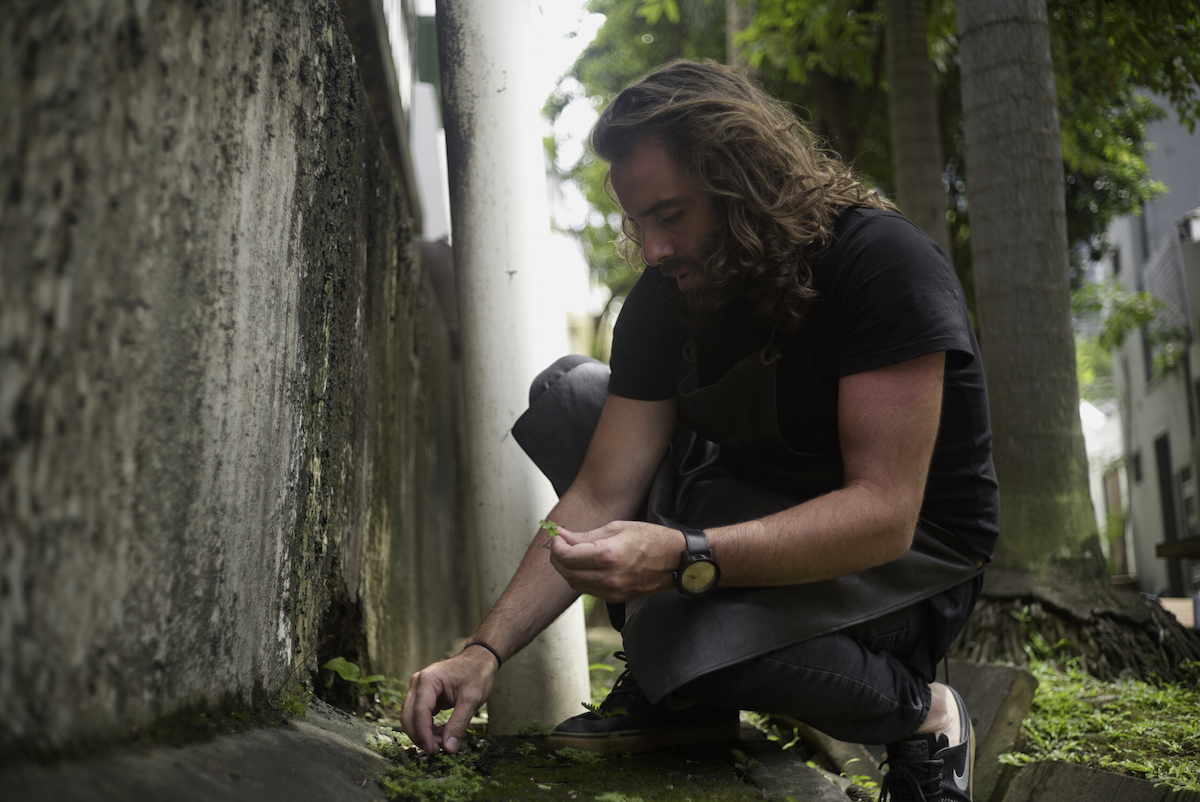 Favorite Bar
Luke doesn't know the name, but it is a place in "Old San Juan," Puerto Rico. It's a tiny shop front that only sells blended Piña Coladas in plastic cups.
The future of the bar world

Luke would love to see the bar world follow suit with the restaurant world. It should focus more on where local and seasonal ingredients are sourced from, so they capture the essence of that particular place and that particular time of the year. To him, Negronis and Manhattans are great drinks, but what would the world be like if every-body only stuck to what has been done before and not look for new experiences? He doesn't want to live in that kind of world!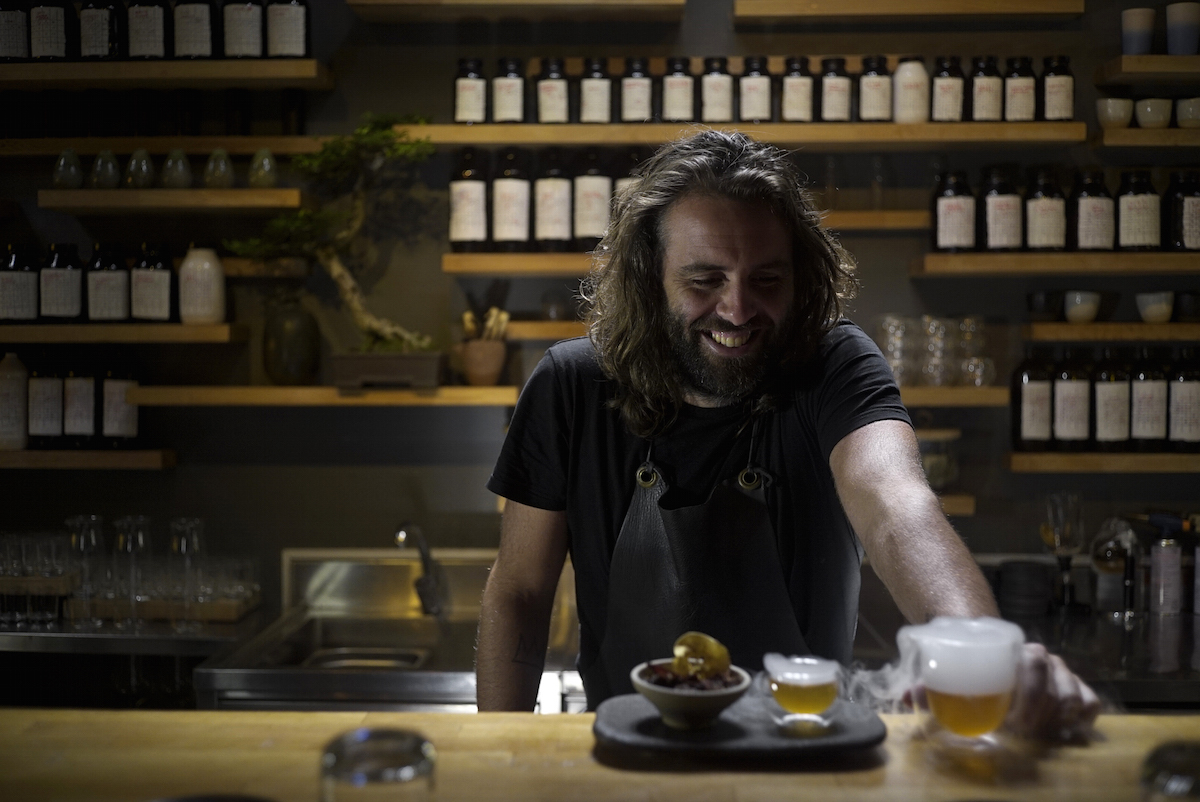 Advice for opening a bar
Luke has not just one but 3 things:
Firstly, if you aren't good with numbers either learn or employ someone who is. A good accountant goes a very long way and can be the difference in your venues success or failure.
Secondly, stick to your guns! If you have an idea for a bar that only serves fried chicken and beer and you believe in that then stick to it. There are a lot of things you can change within the business without losing your original ethos if things don't start out how you envisioned. Some things take a little time for people to catch on and aren't an overnight success. If it's a good idea, it will work. A lot of people panic when things don't start flying from the start and they change too much and as a result lose their identity and the customer gets confused. All of a sudden they go from serving fried chicken and beer to doing pizza and 2 for one, espresso martinis on Tuesdays and the whole thing ends up a mess and moves so far away from the original idea. An ex colleague of his said something to him which stuck, and he thinks about it quite often, "don't be all things to all people!" Do one thing, but do it well!
Lastly, invest time into your staff. They are what keep your bar going on a daily basis. You can't be at the bar from morning to night 7 days a week. Your team is so integral to your business and it works both ways. Treat them well and they will work hard for you. Don't treat them well and watch the wheels fall off and your business that you've worked hard for die.
Craziest customer experience
Luke has been lucky enough to work in some great cities and great bars with awesome clientele so he is afraid he does not have many crazy stories. He finds its actually a common misconception about bartenders that they are showered with tips, phone numbers, end up in bar fights, or go home with the hot girl or guy but at the end of the day the reality is once all the customers have had their fill and go home it's the bartenders taking out the bins, mopping the floors, and then devouring a döner kebab, washing it down with a couple of beers and talking shit. He would have plenty of stories about that!
Singapore
Singapore is such a vibrant hub for young pro­fessionals and a melting pot of so many different cultures and people. There's a constant flow of people coming and going in and out of Singapore and you meet people from all over the globe, which makes it a great city to have a bar in. You never know who is going to walk through the door.
BYRDI (Melbourne)
Opened in Melbourne in July 2019, BYRDI is an amalgamation of what Luke and Aki have learnt over the years. However, there will be a strong focus on seasonal and local produce and maintaining a close relationship with regional farmers.
Target in life
Luke's target in life is to be happy and to surround himself with positive, happy people. As long as he is happy and the people in his life are happy then that's all he could ask for. The most successful people in life to him aren't the richest or the most famous but the ones that are happy doing whatever it is that they are doing. They are the most successful people in this world, the person that has a smile on their face and can honestly say that if they died tomorrow that they were happy.
Best decision in life so far
Luke thinks and answers, "I guess it was to follow my heart". He was really lucky to have a family that encouraged him to pursue whatever it was that made him happy. They were never focused on what grades he had at school, what university degree he had or what career path he chose. They just had one demand…. that whatever it was that he chose to do in my life it made me happy.
UPDATE: Luke left Operation Dagger by Summer 2019 to take over Byrdi in Melbourne.
Images: Operation Dagger