About
I met Katie at her current bar she works – the Grand Army in Brooklyn. A laid back, but excellent neighbourhood cocktail bar that focuses on seafood such as oysters, crudo and other light fare after dark. Katie grew up in Las Vegas. It sounds like a cliché but she got into professional dancing and soon moved to Dallas to further study dance. She may fit the tall and blonde stereotype but never wanted to be that typical Las Vegas showgirl. After her studies she spent a summer in Chicago. A director got her an 8 month contract on a cruise ship dancing for Royal Caribbean. She came fresh out of college so she didn't say no to the opportunity and the money she would earn. When she came back in 2001 she moved to New York. Katie continued to pursue her career in dancing but finding the appropriate niche for a 1.83m blonde seemed to come full circle as most roles at the time were "Follies girls" & showgirl type positions. It was not her ambition at all. In-between performing contracts, like so many others, she was working in bars as a server. After finishing a dance gig it was time for Katie to pick up another serving position to pay the rent while she continued to audition. In what may have been a stroke of good luck, she stopped in the newly opened Flatiron Lounge only to be greeted by Julie Reiner. Julie hired Katie on the spot and she began as a cocktail server and in no time was trained as a bartender. Katie was drawn to the athleticism of working in a high volume cocktail bar as it almost becomes a "dance" when you find your rhythm. She also embraced the new challenges of expanding & fine tuning her palate to begin replicating & creating cocktails. Katie began to embrace a shift in career from the stage to a stage & performance that lives behind the stick. Every night is different & exciting at the bar, just like every show was different. The unexpected can become addicting. Flatiron Lounge is a beautiful art deco place that gets very busy in the evenings. It was all self-taught back then; there were only a few places that did cocktails. Names like Angel's share, Milk & Honey or Bemelmans Bar at the Carlyle Hotel were already out there. Flatiron started getting into cocktails too and they did a seasonal menu change. The whole bar team was involved creating the recipes; it was an interesting and creative platform. Over the years she moved up in the team. Katie left when she felt ready, which was after 3 years in 2006. She got the opportunity to manage the bar program at the Bourgeois Pig. It was a challenge as the place had only a beer & wine licence no liquor licence back then, so all drinks were based on Sherry, Vermouth, Beer or Wine. Katie left after a year as she said it was not the best fit for her and went over to Brooklyn to help open Clover Club, followed by Mayahuel in the East Village. All excellent places, that still exist today. Again her network grew and you can tell that she really loves the people side of the business and not only the cocktail one. It was an exciting time as people had misperceptions about certain spirits. Take Mezcal for example. Everybody thought it is just the smoky booze with the worm and many of them just drink it to get drunk. "It was very rewarding to change the view of a product and make something good out of it", Katie mentions. Mayahuel was a game changer as it was a spirit & region focused cocktail program where all the agave spirits on the backbar were carefully selected. There was a lot of educating on the bartenders part and then finding the best way to translate the heritage & production of these artisanal spirits to their guests in a fun social atmosphere. Using cocktails as the vehicle to introduce unfamiliar flavour profiles led to the success of Mayahuels' ambitious concept. Agave spirits are inherently earthy, fruity & savory and lend themselves well to spicy & savory cocktails; this evolved into a new genre of cocktail styles, "spicy & savory".
A little later she was asked by a good friend, Chef Phillip Kirschen-Clark, if she would like to develop a bar program at a new restaurant called Vandaag, which was a new Scandinavian/Northern European inspired cuisine restaurant. It meant getting into lesser known spirits like Genever and Aquavit. "It was a very innovative and fascinating program to direct", Katie adds. She learned a total new dimension with these spirits and the horizon broadened for her. Even food critics would come into the restaurant and not only look at the food but the cocktails as well. The reviews were fabulous. One critic called it a symbiosis between cooking and drinks. When it closed in 2012, Katie moved on to more consulting roles and she began working as a consultant for Diageo. The company had a bar in their office downtown and they would bring in established bartenders for events and educational development. She got to know more people from the industry and her network grew even bigger. She still does events for Diageo now from time to time but at the same time consults them too. She always kept shifts at other bars like the Shanty or the Long Island bar. "It is about evolving, staying creative and foremost staying on top of the game" Katie sums it up.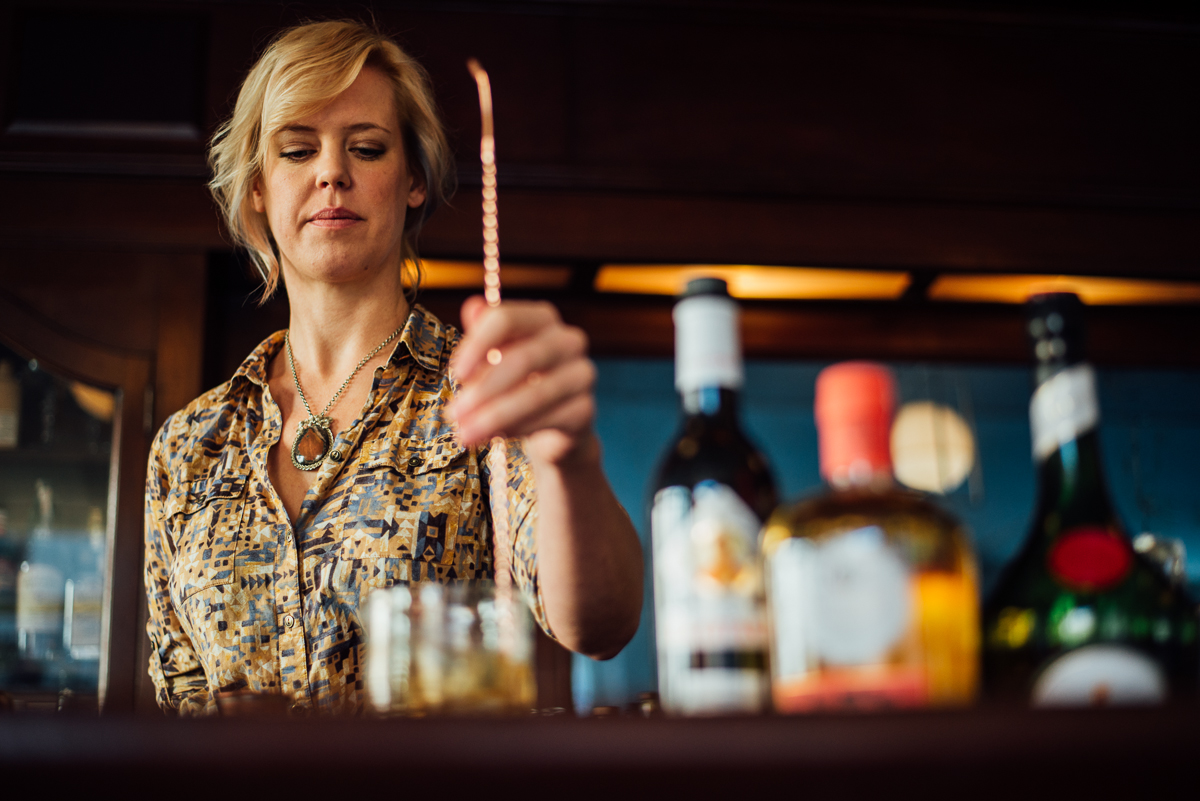 Favourite cocktail
Katie enjoys craft beer and natural & old world wine when she imbibes. She enjoys establishments that are well-rounded and serve beer, wine, spirits and food that are all on the same level of quality. The classic neighbourhood bar where there is something for everyone. She also enjoys a good sherry. If she drinks cocktails she has gotten more purist again and drinks classics. She enjoys the simplicity of the 3 ingredient classics: Negroni, Old Fashioned or Boulevardier, Gin Martini, Margarita, Daiquiri, etc. but, her "go to" would be a dry Amontillado Sherry Cobbler.
Check out Katie's recipes: Red Rock Canyon and The Warhorse.
Inspiration
It definitely gets harder nowadays to be inventive and creative, as a lot has been done already. She likes to do things that she enjoys herself, which is always the best source of inspiration. Moreover, she likes to fill blanks on menus. If there is nothing interesting with Mezcal or Sherry, it gives her a challenge to come up with something new. Sherry and incorporating sherry into cocktails has certainly been a drive of hers in the last few years. "It is such a diverse wine from bone dry savory to unctuous & sweet", she concludes. Sherry can be mixed with just about any base spirit, aged or unaged. So much range and complexity to work with. Sherry also holds deep roots in our cocktail history.
Favourite bar
One of her favourite bars to revisit over the years is the Zig Zag Café in Seattle. It was built for one of the most recognized American bartenders, Murray Stenson, who is one of the most humble, hospitable & hard working barman she has ever had the fortune to be served by. He is no longer behind the stick at Zig Zag but his legacy will always live on there. Katie has never seen a bartender move so quickly & precisely, and not to mention, his memory is sharp as a tack, he would remember your name and what you drank a year later after your first visit to Zig Zag.
The future of the bar world

Katie feels that the market in New York is very saturated. There are many more opportunities nowadays though such as hotels, restaurants, airlines, airports to mention a few. As people get more interested, the scene will move to other places and develop further. the market has grown immensely & craft cocktails are finding their place in far & deep pockets across the globe. What she would like to see is more appreciation of artisanal spirits & less artificial and/or industrial made products. Consumers are becoming more conscious of what they put in their bodies from a food standpoint and she would like to see the same as far as awareness of quality of spirits & fresh ingredients used in cocktails. All of this comes with awareness and education.
Advice for opening a bar
One has to understand the time and effort that is needed to open a new place. A strong business plan is essential. Choosing the right partners is very important as you are stuck with them for better or worse. It is vital to the success of the business. "Do your due diligence very well and be smart", she concludes.
New York for her
Foremost it is home for her but it can be very challenging. It is like an addiction and you need to be careful that it does not consume you. "It is so dynamic", she explains.
Target in life
Katie's target for the future is to travel more. I realised when talking to her, she likes not having her own place. She likes to have new challenges, move around, get to know new people, broaden the horizon – always on the hunt for a new challenge. I think she realised that all this might be in jeopardy if you have your own place. She works to live after all and not the other way around.
Best decision in life
Travel and seeing the world has been one of the greatest opportunities & gifts in her life. "You'd be surprised how many Americans don't have one or don't leave the continent", she explains. There is so much to see!
Update: Katie Stipe does not work at the Grand Army anymore!
Images: Reto Sterchi