I planned a portrait with Wolfgang for quite a while since he is a good friend of mine but we had to wait since he made an unusual career step leaving one of the best bars in Switzerland and becoming No 1 in a new place in the Alps. The Chedi is not unknown in the hotel industry but Andermatt is a small village and besides the 5 Star hotel, there is not much else there for a young and ambitious bartender. Nonetheless, it is an ideal match and you will find out why.
About
Wolle, as he is called by his friends, is now 33 years old and originally from Immenstadt, Germany. To start a bartending career, you tend to think that the most common move would be to go to Munich, but Wolfgang's bartending career started in an unusual manner. After his compulsory schooling, he finished an apprenticeship to become a qualified land surveyor. Whilst waiting for an appropriate position to open, an opportunity occurred.
His friend was running a sports bar in the small town where Wolfgang lived. Due to an unfortunate situation with this friend's house burning down, he urgently needed someone to help run the bar.
As Wolfgang was awaiting a role – he jumped in to help his friend. Without any knowledge of running a bar, Wolfgang was put in charge to run the place. He did this for a whole year, still thinking a position as land surveyor will open soon. That's where it all started with guests, spirits, cocktails and organizing parties. A lot of guests would tell him that he has a great talent. Wolfgang got more and more interested and was eager to learn more. Eventually, he completed a bartending course in Vienna, from there a friend organized a position in Mallorca in the Robinson Club where he went for 1 ½ years. It was all about standard cocktails back then. His mentor, Mirko Gardelliano, in charge of all the Robinson Clubs, took him under his wing and trained him. From there Wolfgang moved to the Hotel Alpenrose in Zürs/Lech as assistant bar manager. He didn't stay there too long and moved on to Mojitos in Düsseldorf 2009 and stayed for 1 ½ years under his second mentor Kent Steinbach. He learned many new drinks and spirits broadening his knowledge.
That is where he first read about the famous Widder Bar in Zurich and fell in love with it when he came as a guest. He moved to Zurich but as no position was opening he had to do an instructive stopover for one year in Basel in the Des Arts Bar. It was a volume of 500 cocktails per night. Basel didn't do it in the long run and he was craving to get a position in the Widder which suited him as he was always drawn to hotel bars. Finally, through a friend of his, Christian Heiss from the famous Kronenhalle bar, he got tipped off that Widder is looking to hire and his chance came. He joined the team and stayed there for 5 ½ years working his way up to No 2. In 2016 it was time to move on and take over the Bar at the Chedi in Andermatt as head bartender. A perfect fit considering that Wolfgang's career so far was infused with hotel experiences, which are his passion.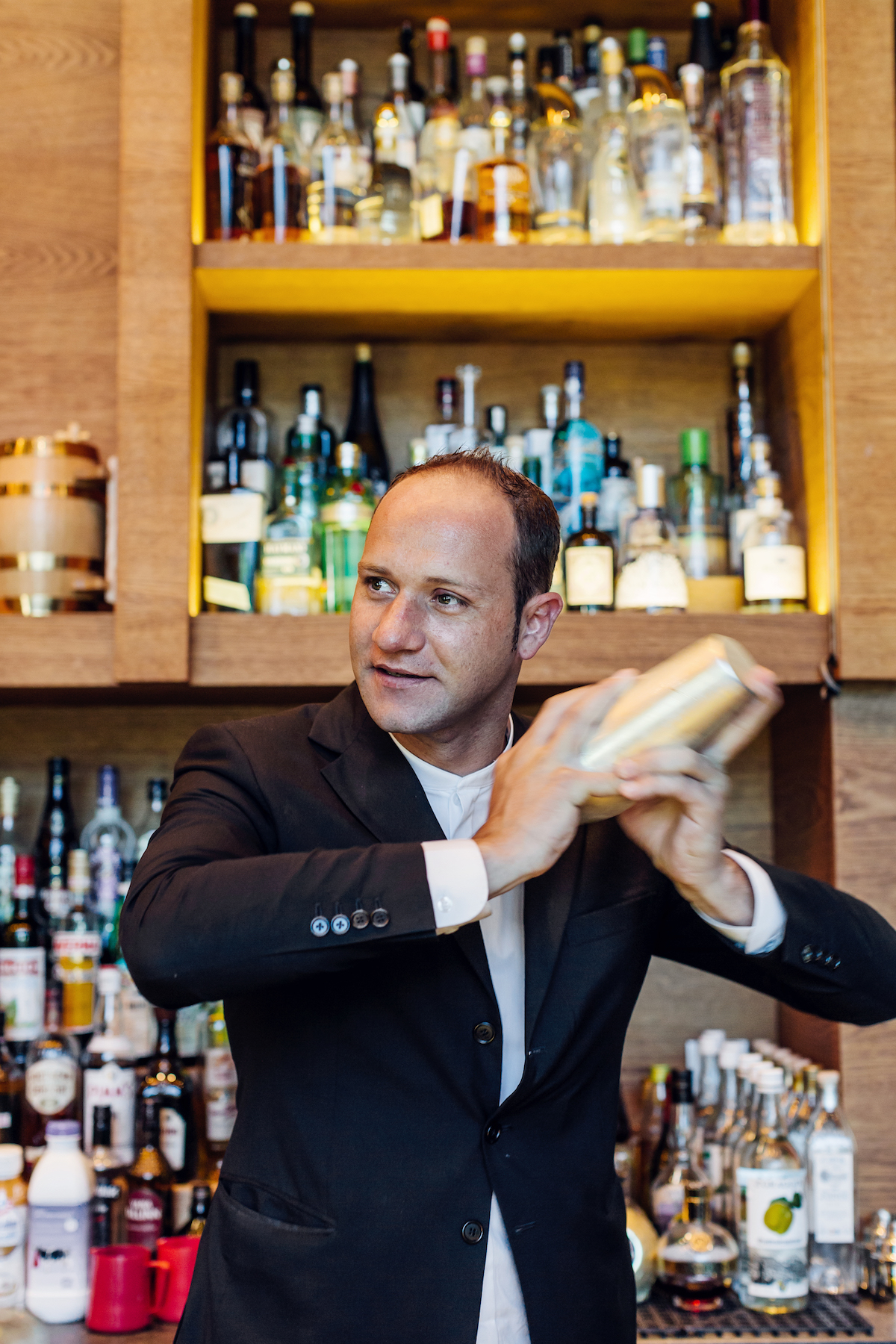 The Bar
The Bar as it is humbly called in the Chedi is not the main attraction of the hotel. The spa is certainly seller number one but also the excellent cuisine, magnificent rooms, and other activities attract travellers from all over the world. In the end, it is 5 stars deluxe and one should feel at home. This is one of the principles of every luxurious hotel temple. The bar is open to the public and even has a side entrance and it does attract a fair amount of outside guests but it did not really have a concept before Wolfgang started. The bar menu was not optimal and the staff only made around 20 cocktails a day. The bar snacks were listed first and the drinks on later pages. Not something an experienced bartender would do. Wolfgang had a lot of freedom bringing new drive in the bar and change things. The main focus is now on whisky, one of his passions and sake. In general, the team sticks to classics with a twist and creates innovative sake drinks too. Wolfgang is not only in charge of the bar but the whole lounge area on the ground floor which is magnificent. Now you see cocktails here and there on many tables whereas before there was hardly any. This also due to the grand tour the guests get when they arrive. The bar gets more emphasis than a while ago which also helps to attract customers. With a smile on his face, visibly satisfied, one can tell that Wolfgang has already achieved a remarkable change in a short time.
Inspiration
It comes naturally if you do it with heart. It is not a profession it is a passion. Wolfgang likes to read about new products, ideas come to mind right there. He loves to travel and visits other bars as much as he can. He collects inspiration along the way. The community of friends is huge and creativity is everywhere, you just need to open your eyes. The tricky part is always that the ideas also have to function at the place one works. When creating a new drink, it always starts with a basis. In the Chedi with its Asian influence, you can find many herbs which are ideal for new recipes.
Favourite cocktail
A very tricky question for a cocktail lover like Wolfgang! It always depends on the time of day and the mood you are in but also where you are. In general, he loves classics. Less is more but if he has to break it down it is in the ranks of a Sazerac, Vieux Carré, and Manhattan – whisky-based and heavy on the spirit.
Check out Wolfgang's recipes: M&M and Me o Samashimasu.
Favourite bar
Various facts come together for a favourite bar. Knowing his preference, he loves classic grand hotel bars rather than small speakeasies. Therefore very classic is his choice. He loves the Connaught bar in London. Wolfgang was only there twice so far but it flashed him. Everything comes together, heartiness, knowledge and competence but not cocky, perfect service but not a fake smile, professional but not stiff. Overall the perfect balance and he measures his own work with this experience. You feel that this is what he expects in his bar, no less. The interior, in the end, is just the icing on the cake.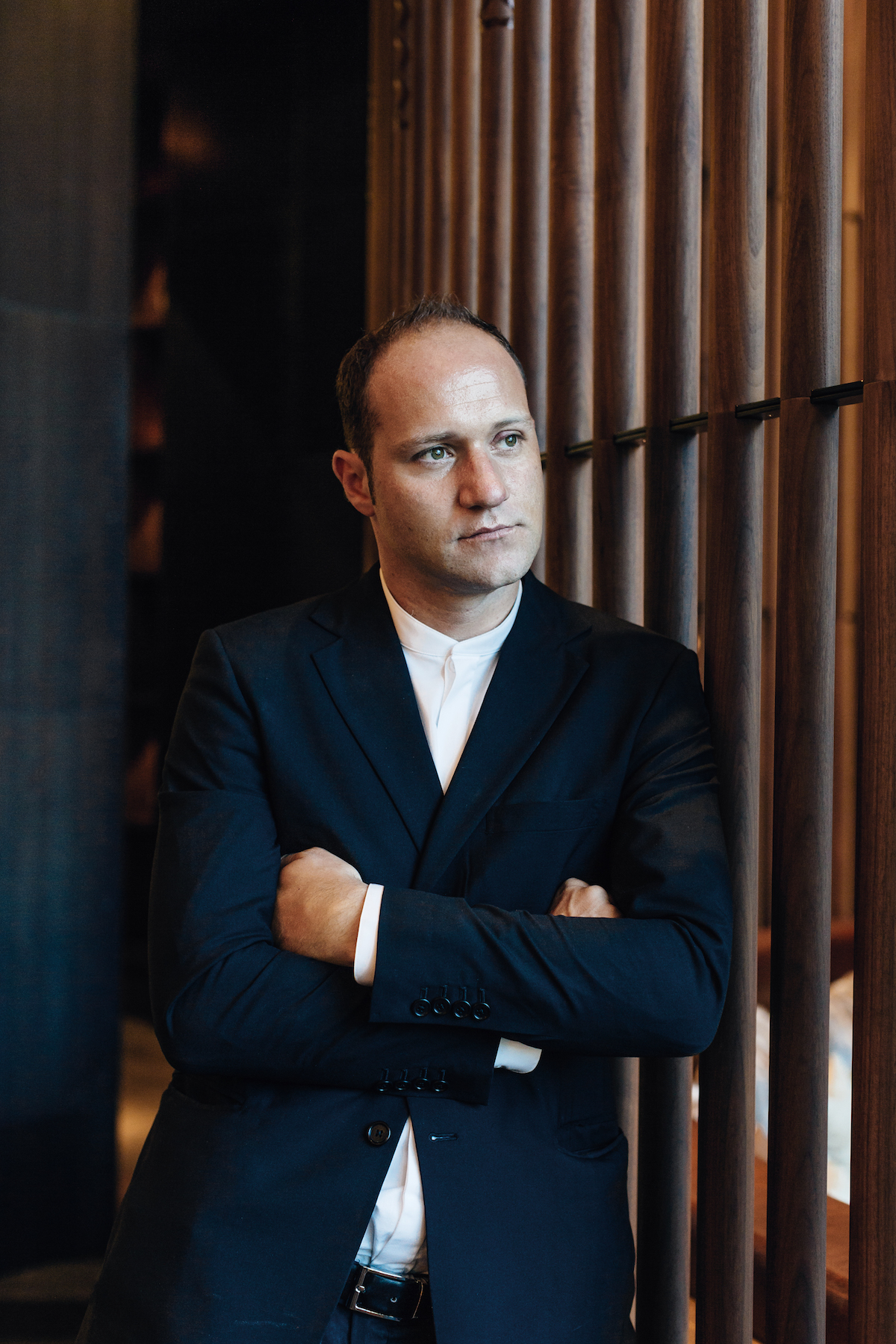 The future of the bar world

It really depends on where you are geographically speaking. A lot has happened over the last 5 years. The drinking behaviour, in general, has changed. The guest is more selective when imbibing. The focus is products and quality. Clearly there is a tendency to more cocktails. The guests are curious. The trend is towards haute gastronomy, more conscious, the experience counts, especially when cocktails cost between USD 20-25. Naturally, it raises the expectations. The knowledge lies not solely with the bartender. The guest will come with an idea in which direction it shall go. The beauty is that there are no boundaries. One is never finished learning something. We never stand still, there is always development. Like so many, Wolfgang wishes that the emphasis is more on the guest rather than the drink. Unfortunately, there are many that forget the surroundings and focus too much on the drinks but as we learned, there is so much more to it. It starts with the water, the napkin. It shall be all about attention to detail. Last but not least he sees a focus on communication with the guest. Bartenders not only need to be skilful but they need to have more social competence too. It is equally important.
Advice for opening a bar
"No matter what you do, you need to be true to yourself", Wolfgang states. Stick to the concept and foremost live it. There needs to be passion and heartiness. Guests need to feel this. One realizes very quickly if the bartender loves what he/she does.
Andermatt

Tough question! It definitely has potential but for him, it is a project. Certainly, the cocktail culture does not come first. It is a small village in the Alps. As he grew up in a small town he has experience with small town characters. He sees it as a stop on his career path but he can identify himself with it. He sees it as a big chance.
Target in Life
He would love to have his own bar eventually, as small as possible, very classy, jazz and a dark wooden interior. His other aim is to have a small family, be at the beach in the warmth sipping Mai Tai's with his wife and a kid.
Best decision in life
Changing his profession and start working as a bartender!
Update: Wolfgang Mayer left the Chedi and is back at Widder Bar in Zürich as Bar Manager!
Images: © Claudia Link