I had never been to Norway so when I decided to do a city trip in the middle of winter I knew I would spend quite some time in cocktail bars to heat up again from the cold winter. Naturally, a bartender portrait had to be organised. Firstly, I wanted my first Tiki Bar coverage with Aku Aku but in the end, it didn't work out and through connections; I found my way into the healthiest bar in town. Surrounded by plants you almost feel like in a jungle. This is where I met Robin Sohrabi-Shiraz.
About
Robin is now 34 years old and like so many others found his way into the bartending business through his passion for people and eventually fell in love with the industry. Originally from Liverpool, he moved to Oslo in 2006. Back then he was a full on musician who studied music back home in England. Norway was no stranger to him since everything started in this northern country. His father Iranian, his mom from England who got to know each other in the 70's in Norway through work immigration.
Robin was touring with all kinds of bands through Europe. His travels with the music even brought him down to North West Africa. It was a passion; it was not about the money! "It was really for the fun", Robin tells me. 3 years into touring, they were playing a gig in Cap Verde in front of 80'000 people. He realized back then that this gig made him think about the future of his career. As it was all passion, it kind of lost the charm for him to play in front of so many people. They were doing 5-6 gigs a week in the end and it was getting too busy.
He had a little experience working in a bar from years back called Café Sør. It wasn't really about cocktails back then and he wasn't totally passionate about it but he loved working with people. He decided to stop almost all music projects in 2012 and went to Blå a famous alternative music/bar venue in Oslo, where they made simple drinks like Gin Fizz, New York Sour or Moscow Mule. Robin liked it very much, though. it was the combination of music, bartending and serving guests that grabbed his attention. It was the perfect way to get his mind off touring as a band. Another interest that he always had in mind was studying psychology, so he decided to enrol to study in Bergen.
Around the same time in 2012, he met the people from Fuglen, a famous cocktail bar/coffee place. They were discussing cocktails and out foraging for ingredients one evening. It was all about flavours and seasonality. Robin who always loved being outside in nature, was very drawn to these cocktail philosophies and while he was waiting for his studies to start he did a test shift at Fuglen. After a very short time, the bar manager left and Robin despite his limited knowledge got offered the position to run the place, It was a challenge and he liked it.
His studies were then put on hold and he took a 2-year contract devoting himself just for the bar making it his "cocktail school". From there he moved to Torggata Botaniske where he works now and besides that he runs cocktails catering business. A few months ago he got approached by a real estate company to develop a new bar together with Jacob, a friend who also works at Torggata and who did all the photos for this shoot. Robin will open his new place with Jacob on 1st May 2017 called Abelone in Oslo named after a legendary Brothel Mama. One can be curious.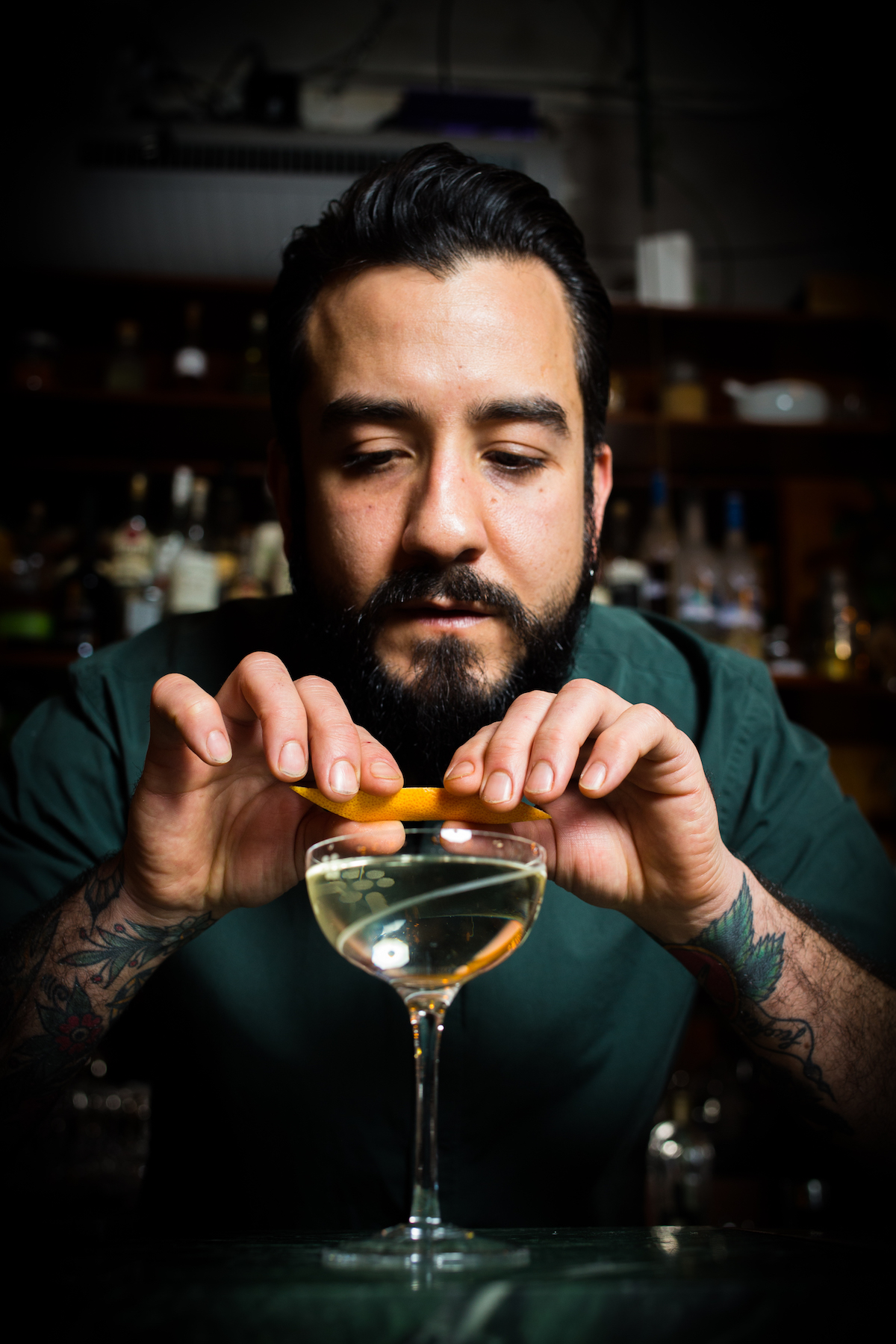 Inspiration
Inspiration comes from the element itself. A spirit, a spice, a herb or even a flower. Robin loves to walk around in nature and smells things or even takes his bike to cruise around in the forest for inspiration. Being a versatile and creative person, ideas flow easily. Finding inspiration is a natural process for Robin. He has a lot of imagination and combines flavours already in his mind. It is like compiling a perfume, layers by layers it is composed and results in a delicious cocktail in the end always with the help of seasonality.
Favourite cocktail
A good Hanky Panky or a Dry Martini comes to mind. They are both delicate but difficult to execute. He is very picky when it comes to these recipes. Both cocktails don't allow for a lot of mistakes. If they are a little bit off balance it can turn bad very fast. One cannot hide any mistakes behind one of these cocktails.
Check out Robin's recipes: White Bamboo and Salam Basilikum.
Favourite bar
Being not too long in the business, he hasn't yet had the opportunity to travel as much as he would like in the world of cocktails, therefore, his bar of choice is Lardo in Oslo. They serve wine and only white spirits, in particular, Rum and Grappa. For Robin, it's the service that stands out here. "They just know how to take care of you", he adds. To place an order Robin would tell them how he is feeling and they would then serve a beverage to complement that. It is a place you can for sure have a good time with quality people.
The future of the bar world

He looks at this locally. There will be a lot more and strong local identity in Oslo. The Scandinavian style will constantly grow, using fermentation, pickling and using vinegar as an example, which is very popular in Norway. The cultural identity and heritage will come out more and more over the next years. Furthermore, the focus will be more on quality – especially in a country where people get drunk a lot! People will put more emphasis on living healthy with beverages but also with food. It is all about a healthy lifestyle.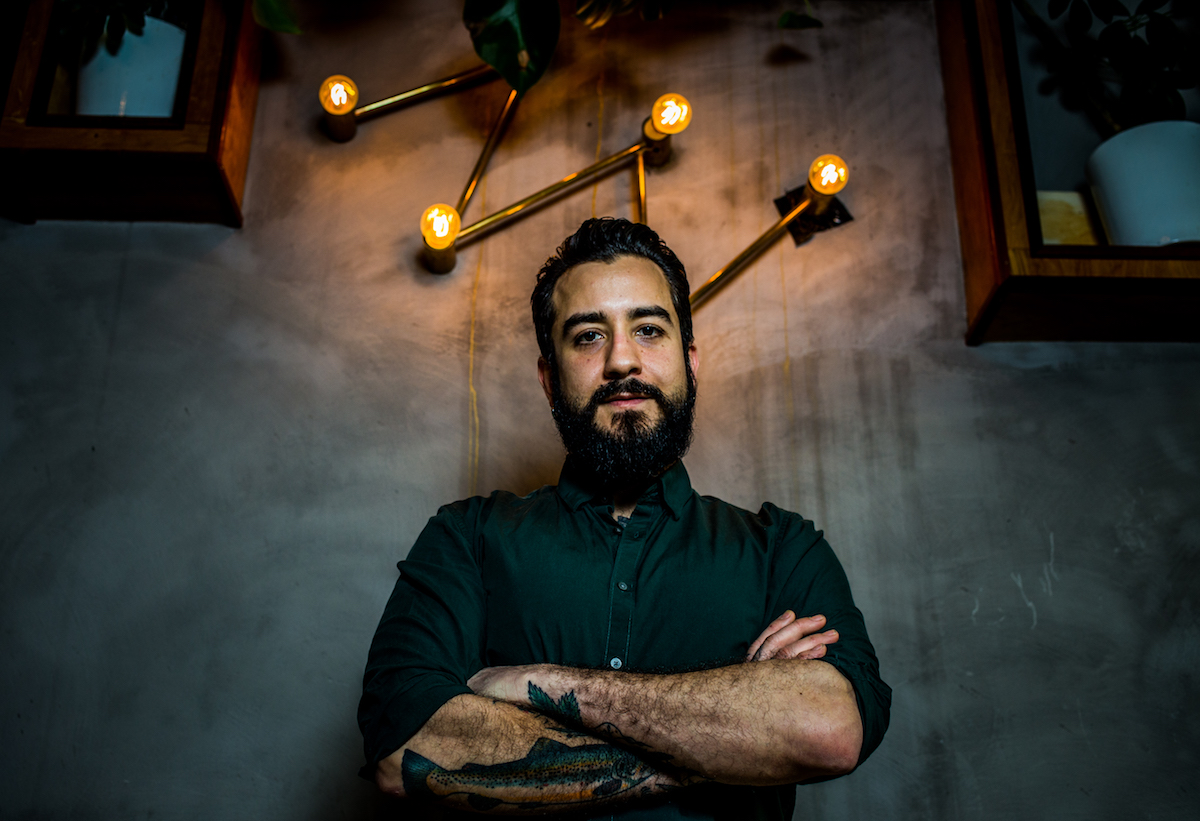 Advice for opening a bar
Don't just open it to open something! Open something that is not there yet. Something that has not been done before in your city. Be individual! Listen to friends and guests as much as you can and reflect on it.
Oslo

He calls it home. It is a very exciting place. It is a very good time to be there from an industry point of view, making a positive impact on the development of the city. Robin wants to be part of that development.
Target in life
To be able to work with projects that he loves in a place that he falls in love with. Eventually, he would love to have a bar in Cap Verde, London, New York, as well the bar in Oslo. He wants these 4 bars so he has a great excuse to hang out in these locations.
Best decision in life
Changing completely direction at 30 and becoming a bartender.
Update: Robin does not work at Torggata Botansike anymore. He left the bartending business!
Images: Jacob Spangenberg