It was clear for me when going to the capital of the Nordic cuisine to see the famous cocktail bars which undoubtedly have profited as well from the culinary boom over the last years. As cool as the restaurants are the bars. From Ruby and Curfew to Atze Peng and last but not least Lidkoeb. There I met with the General Manager Colin Edie who found his way to Copenhagen by taking a leap of faith.
About
Colin 28 was born and raised in Edinburgh. He initially studied sports science in his hometown but eventually found out, like so many others, it wasn't really for him. He decided to move to New York for summer camp in 2008/9 and in winter he would return to Edinburgh to do some pub work. After the two years he landed a job at a high volume bar back home called Frankenstein's. They did a few cocktails but nothing too fancy. In 2010 Colin moved to Melbourne on a one-year work visa. He started at a bar called Roc Cocos for 6 months which was a cocktail and restaurant venue. This is where his cocktail skills began to take shape. He moved on to Perth for another 4 months to work at a place called Kitsch which again was a restaurant which also served cocktails. In 2012 he returned to Edinburgh and got a job at the famous Bon Vivant. Colin stayed there for 2 years where he further improved his skills. The team consisted of great bartenders with the main focus being on delivering quality drinks. His flatmate at the time was Australian and running out of his work visa. On a whim, they both decided to move to Copenhagen as Colin knew somebody working at a bar called Ruby. It was here where he started to work at Lidkoeb and eventually got offered the position as general manager.
Lidkoeb
The bar is now almost 4 years old and a place where you have a good night out. With classics and twists including a well executed Nordic section taking up the hype of the Nordic cuisine which really suits the place. On a good night, roughly a 1000 cocktails find their way over the counter and on average they do 365 cocktails a day. Lidkoeb consists of a total of three floors whereas the third one is focused on whiskey and whiskey cocktails only and fits roughly 30 guests. It's seating only and the music is played from vinyl. In total, around 200 guests find space in the whole bar and ground floor and first floor are rather lively and often have live music. There is even an outside patio which is open until 22.00 in the summer time. The beautiful listed building is slightly recessed from the main street and used to be an apothecary. "We just changed the drugs sold here by opening a bar", Colin tells me.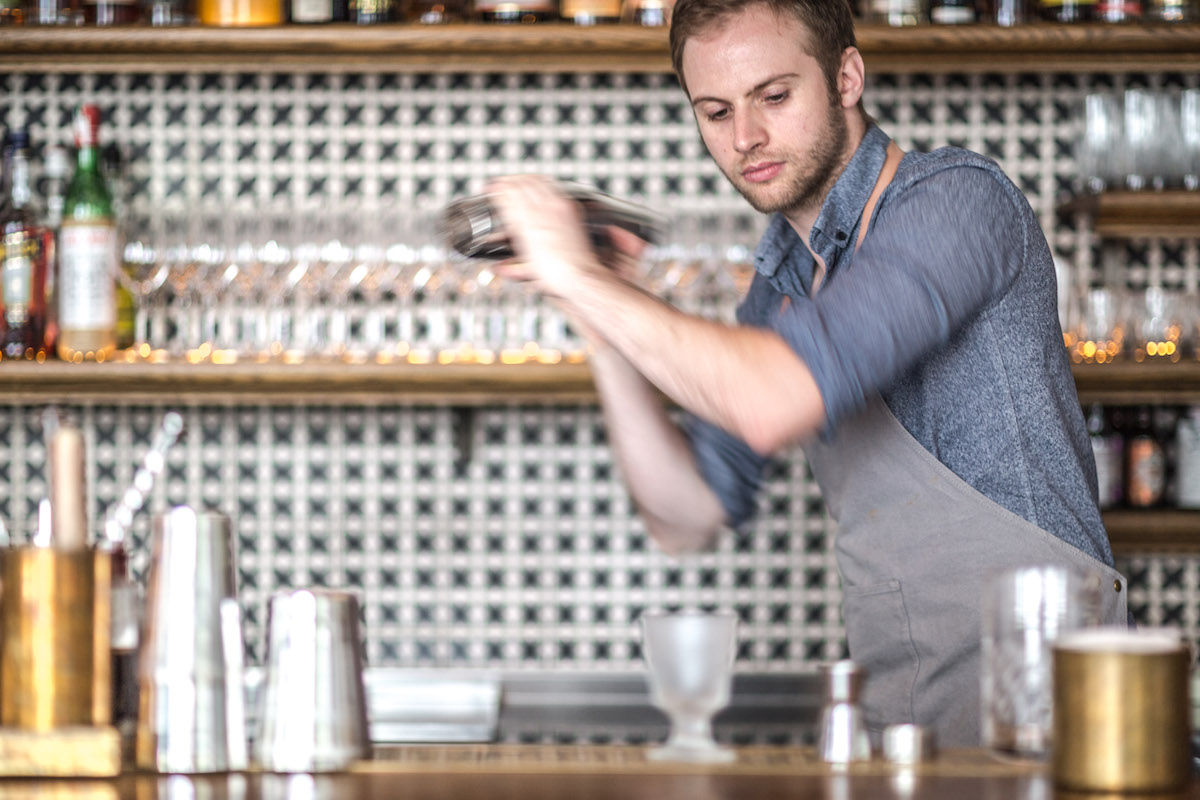 Inspiration
Being in Copenhagen the expected answer Colin gave me was through food and flavour profiles. The Nordic food trend has immensely influenced him. He even goes that far to say that Ruby would not be in the Top50 Bars if it weren't for the Nordic food hype. The menu at Lidkoeb, which changes twice a year is done by Nick, the operations manager, Simon the assistant manager and Colin. The menu shall be balanced and the drinks shall tell you a story and take you to a place. The management team creates roughly 5-6 new cocktails for every menu and the rest will be shuffled around. It is important to still serve the older cocktails which are very popular with guests. Colin stays on top of the game by still mixing behind the bar and inspiration also comes from the origins of the spirits. He travels a lot to see where they are made. "That is very inspiring and might give an idea on a Danish twist for a drink", he concludes.
Favourite cocktail
Colin loves a Tommy's, Margarita. It is an honest, beautifully composed creation which is just wonderful and not complicated just how a good cocktail shall be. Another choice is a well executed Manhattan and I tend to agree with Colin. A classic that does not confuse offers simplicity but at the same time surprises with complex flavours and everything is in the cocktail for a reason. It couldn't be described any better.
Check out Colin's recipes: Hugorm and Peanut Butter Old Fashioned.
Favourite bar
Bramble in Edinburgh: It has a huge place in Colin's heart certainly also because it is in his hometown. Every time he goes in he has a good time. It has also seen some fabulous bartenders evolving out of this place and displays an excellent training ground for new talents.
The future of the bar world

Colin hopes that the people respect the craft of making cocktails even more and that being a bartender gets recognized as a good profession. He is confident that it will lead in that direction since guests are nowadays more knowledgeable. There should be some more active listening to the guests and bartenders need to understand the basic product much better. It is about the quality and the story of the spirits. The overall hospitality is the key word.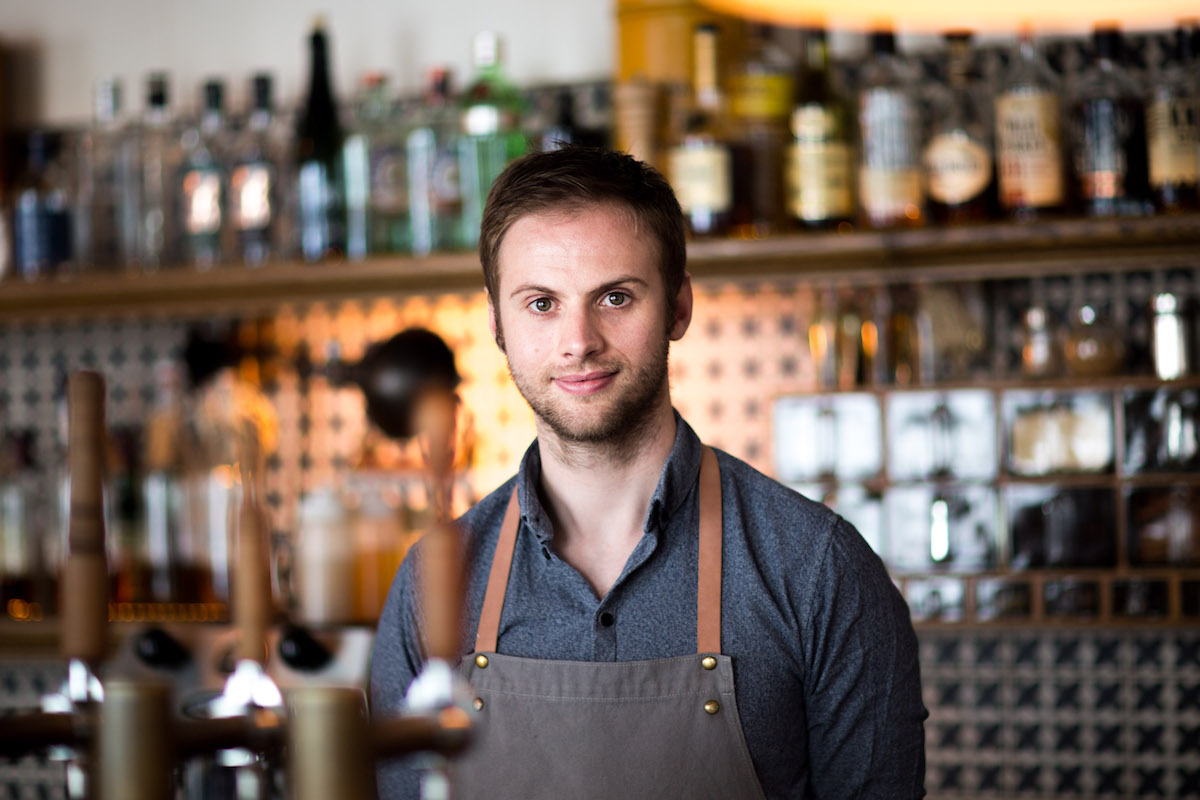 Advice for opening a bar
People are core! You need to be able to trust them and you should know that they work hard for what you have built. One needs to delegate responsibly so the team has also trust in you. Bounce off ideas on them and involve them. Don't take on the world yourself; listen to your team and also to your guests eventually.
Copenhagen

It has become a second home for Colin. A home away from home. Somewhere he could settle. It is very vibrant and it is good for the bar industry. People are curious here and they like to experiment and taste a lot.
Target in life
He wants to build a profile for Lidkoeb and by that get more people to go to Copenhagen. He wants to make this bar better and eventually own a place. "That's the holy grail, isn't it", Colin explains.
Dislikes
He can't drink at Lidkoeb anymore. He is so attached to it that you ruin the bar you for work for yourself. Moreover, he dislikes bartenders that snob around their guests. Educate the guests is a good thing but not patronize them. There is nothing worse than bartenders doing that in the bar world nowadays.
Best decision in life
When he got drunk for Christmas and decided on a whim to move to Copenhagen. He is even not sure why the decision was made for Copenhagen. He reckons it was because up to that point he has never been.
Images: Rasmus Palmqvist