About
Alastair, now thirty-seven years old, was born in Godalming, close to Guildford, about 40 kilometers southwest of London. He failed his A-Levels —not due to a lack of intelligence but rather missing perspective—and started working in a bar in Guildford, falling in love with bars, drinks, and music practically overnight. He worked in different bars over the years and in 2002 got the chance to become a manager in a bar called Mook in Not-ting Hill, where he learned all the essential skills needed to run a bar—cost effectiveness first and foremost. When he was made redundant in 2006 because of a property deal, it came at a good time as his then-girlfriend was moving back to the US, so he took the redundancy pay-out and followed her to New York. Living right across the street from the popular speakeasy Little Branch, he soon became a regular, and through connections was able to get a job at the renowned Pegu Club in SoHo. Very grateful for this opportunity, he put in a lot of effort and worked his way up, learning all the essentials of refined cocktail-making. His love for bars grew stronger. Founding Happiness Forgets was somewhat of an accident. After his two years in New York (2006–2008), he moved back to London and was working various jobs, such as manager in the then newly opened Quo Vadis and later as food and beverage manager of The Arch in Marylebone. He wanted to open his own bar, yet property prices were way beyond his reach. Disappointed with the job opportunities in the city, he was considering moving back to New York when a friend asked if he still wanted to open a bar in London. Once he saw the space, he fell in love and that was it. That was back in 2010, and the rest is history.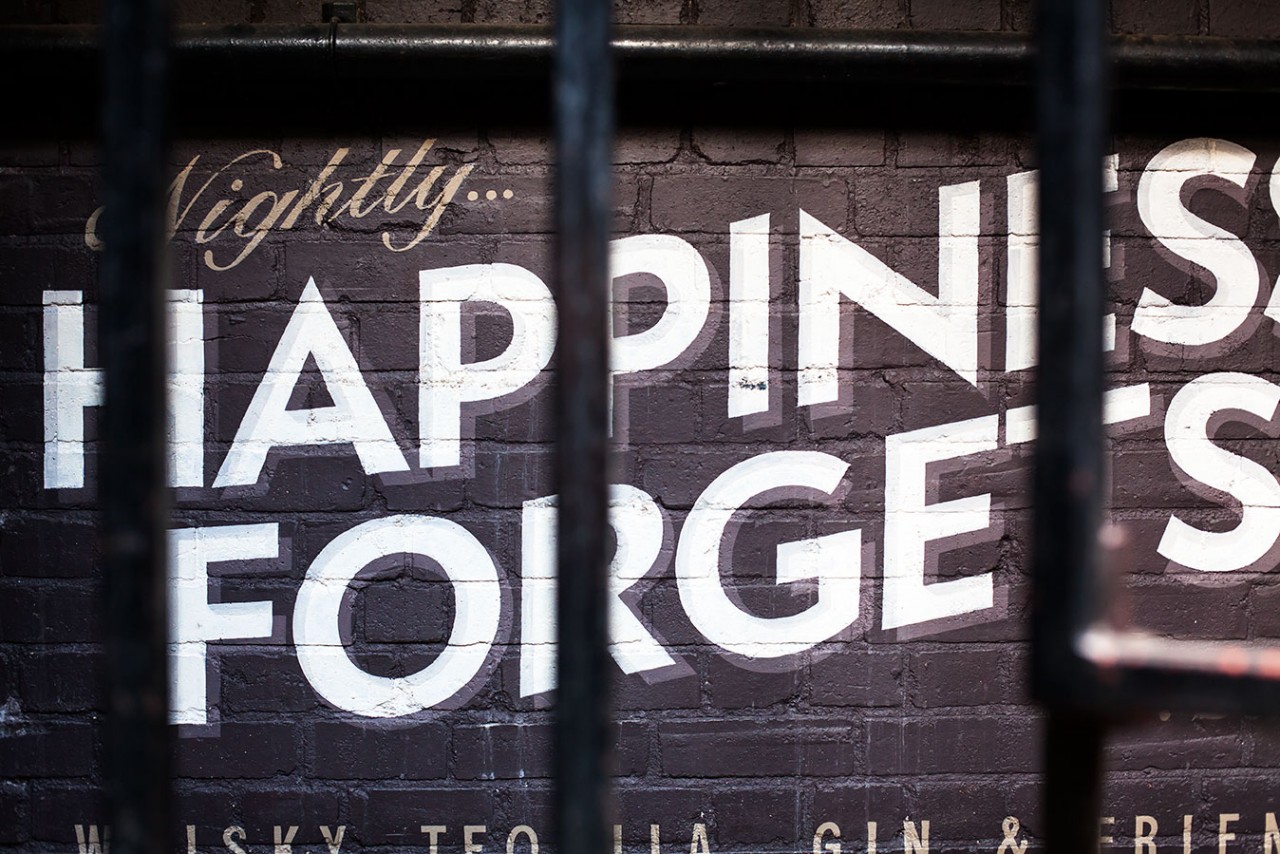 Happiness Forgets
Happiness Forgets is a place for grown-ups with zero pretense. Just good service and good drinks. The original idea was for a bar that Alastair would want to have a drink in—not too loud, not too packed. It now fits fifty people, all seated. The team is small at six to seven employees, depending on the time of the year. It's the typical neighborhood bar where people gather for a good time. Where the bartenders recognize them, where they interact, mingle, and get to know strangers. It is laid-back, Alastair says, and it's about building a community; people don't come here to find the craziest and most exotic cocktail creations.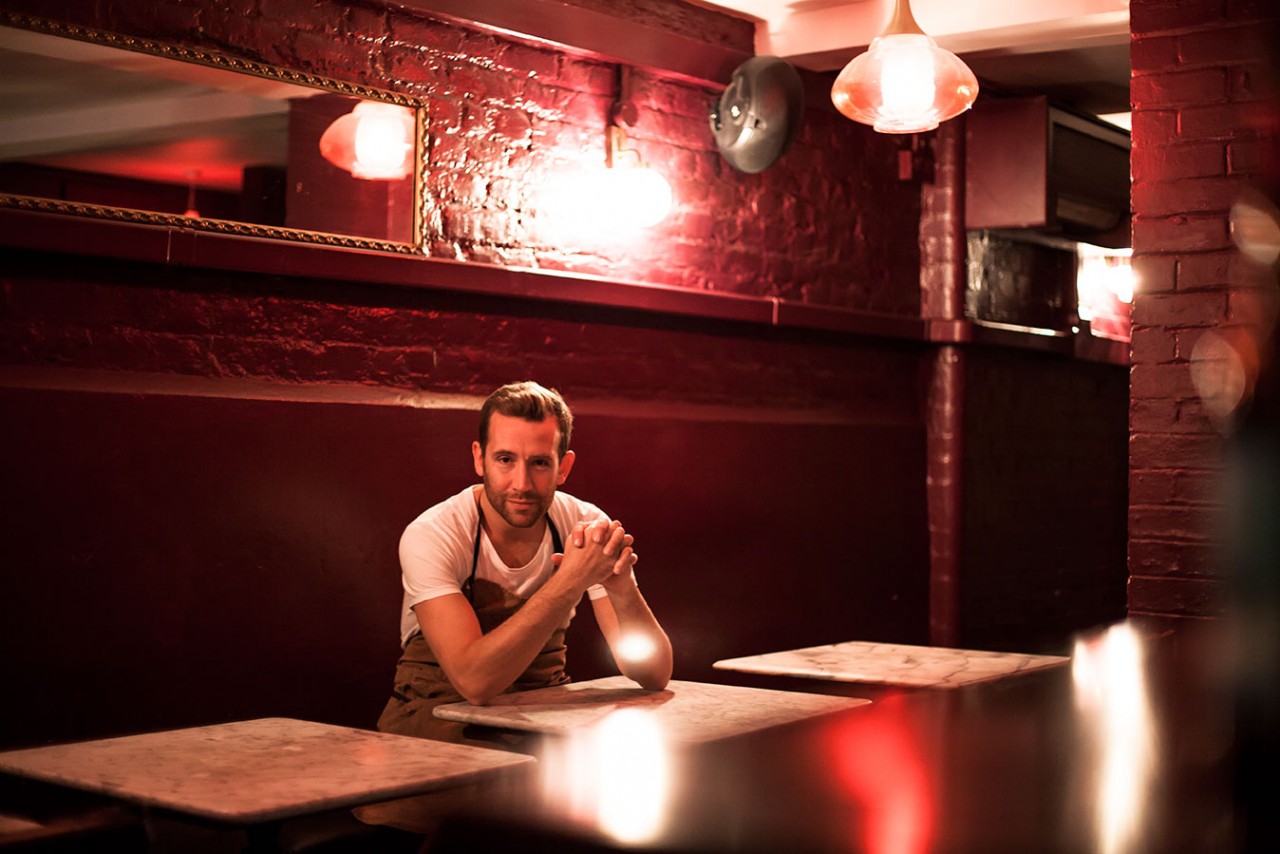 Inspiration
When Alastair started Happiness Forgets, it was mainly him and some friends who created the cocktails and played around with recipes. That was a while back. Now, he is only helping out from time to time and therefore many of the creations that are found on the menu are not his anymore. That's not a problem for him, though, since his team is very inventive and his aim is to give them a platform. One of his own compositions still remains as a staple, called The Perfect Storm—a twist on a Dark and Stormy. Other bartenders inspire him, he says, and he doesn't need to look far for that. East London has some of the most inventive and cutting-edge bar projects on the planet: 69 Colebrooke Row with Tony Conigliaro or Zetter Townhouse, just to name two highly creative locations. Alastair also follows new product developments and trends in the industry, restaurant chefs, and he travels as much as he can to see what else is out there in the world. There is an emerging trend of new devices and techniques originating from the restaurant industry: Thermomix, rotovap, espumas, sous-vide, and liquid nitrogen among them. Bars tend to adopt from the restaurant industry. At the forefront of this was—and still is the Aviary in Chicago, home of molecular masterpieces. Alastair describes himself as not too experimental; sweet, sour, spirit, and modifier—he likes to keep it simple.
Favorite cocktail
Keeping it simple is also key when it comes to Alastair's favorite drinks. He had to give this some thought; it's always a difficult question and most bartenders cannot just name one single drink, as it's mostly a few that they like—depending on the occasion. What I almost expected was a Daiquiri, and he mentioned it. A delicious and simple classic and you can test a bartender, too, Alastair added plus you are not a pain in the ass, as the drink hasn't got an endless amount of ingredients. What he also likes is a good Old Fashioned and a Treacle, a twist of a Rum Old Fashioned with a little extra ingredient: fresh apple juice.
Check out Alastair's recipes: Perfect Storm and Jerezana.
Favorite bar
It's a little corner bar in New York's West Village opened by Milk and Honey owner Sasha Petraske called Little Branch. Solid cocktails, friendly bartenders, fresh ingredients, the perfect neighbourhood spot, that's why Alastair loves it so much. Probably also because it was right across the street where he lived, he adds.
The future of the bar world
Alastair sees indications for a backlash in the next few years, with bar culture becoming simpler again. People want a classic cocktail well done. Fresh ingredients, maybe playing with new and creative variations of a spirit here and there, but that's it. Guests want to have a good time, interact, talk to the bartender, and just enjoy a drink or two. Another trend he wishes to see is bartenders who own their bars. Not being under the reins of an establishment would provide more energy and creativity to the bar world.
London
When I asked Alastair what London is for him, his immediate and honest answer was: "Home." He said he couldn't imagine not living there any-more. Yes, he does love New York as well, but to him East London feels like the most New York part of London. He has been traveling a fair bit since Happiness Forgets became so successful. In his opinion, though, the cocktail world revolves around two cities in this world—New York and London. It's hard to explain why, but they just have that special something, he adds. In the end, though, he says, he's a London boy and that's where he belongs.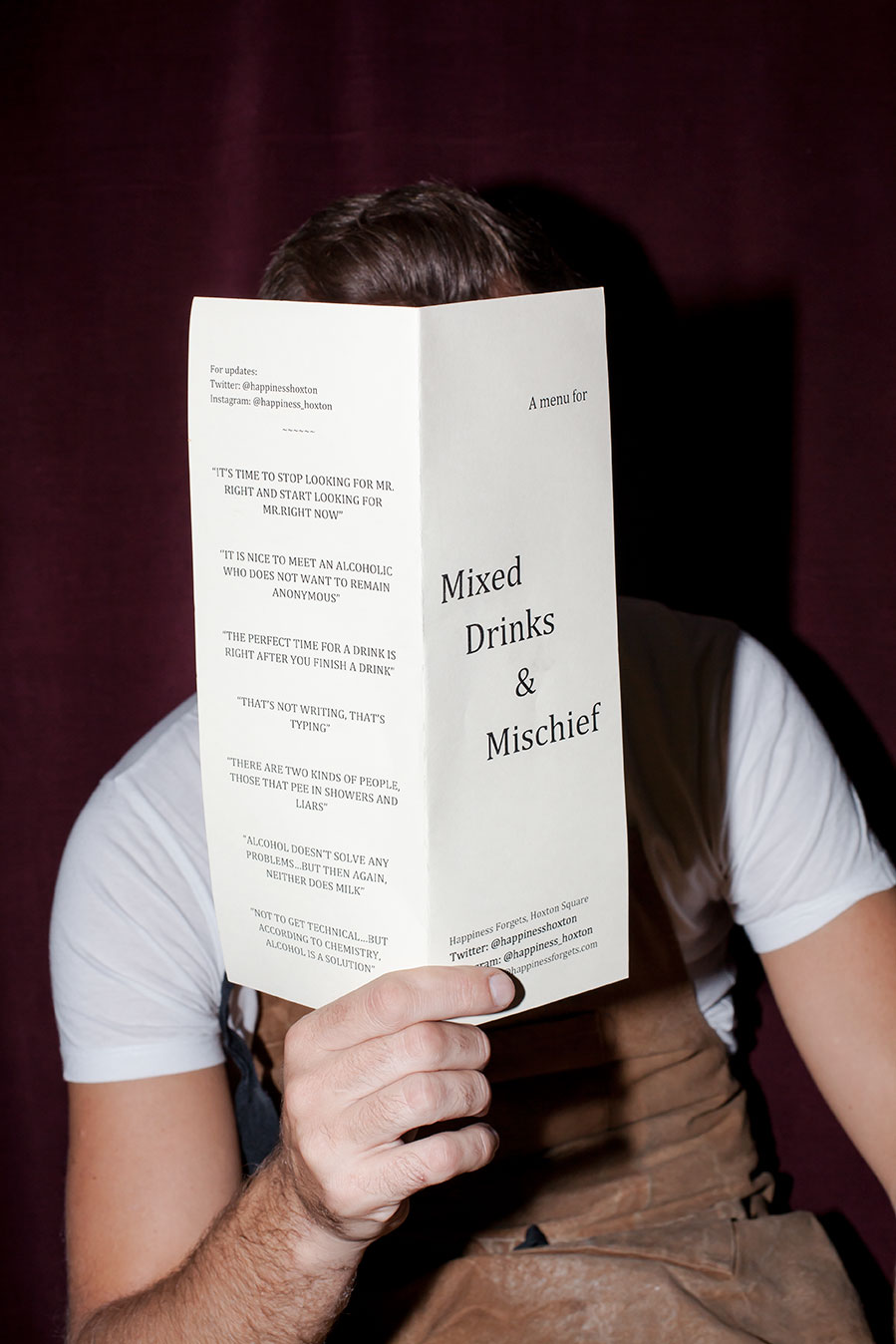 Advice for opening a bar

For the people who are interested in opening a bar I asked Alastair what advice he could give if someone wants to open one. After all he opened Happiness Forgets with just GBP 25'000.- and this in Shoreditch. His first advice, one that I also learned during my studies, was: "Location, Location, Location". Think in advance to whom you cater, who you do expect coming to your bar and study the competition. Be inventive! This doesn't mean that you have to be the most creative person but you have to attract the right crowd for you and your place and don't get carried away. Passion is a dangerous thing. What I also learned in school was never open a gastronomic establishment because of passion. You can get carried away easily. Keep focused. Get your numbers straight and be cost effective is one of the most important aspects. Last but not least you have to find the right people, he said. The hospitality industry is a people's business and if you have the right people that surround you, it is already half the rent. So true I say and too many tend to forget that sometimes.
Craziest customer experience
When working at Mook, the width of the bar top was rather small. A lady had gotten up from her bar stool, because she wanted to have a better view of what Alastair was mixing. Focused as he was, doing his thing, he did not realize that she was leaning over the bar top quite a bit, and was getting far too close. He was just about to fill his shaker with vodka, finishing off his pour with a skillful cut. Just as skillful as his cut, however, was his knockout of the lady with the vodka bottle. She fell like a bowling pin, lying on the ground for a long second before regaining consciousness. Alastair was as baffled as she was and could just manage to ask: "Are you okay?"
Target in life
I expected a long answer here. Projects in mind, ideas, achievements but I got the humblest and honest answer we should all hold dear and he said: "I just want to be happy in life", something that we all tend to forget too often.
Images: Anni Katrin Elmer