I finally made it to the official hipster town of the world – Portland, Oregon. What a cool city, with a pleasurable vibe. The bar culture is most distinguished, ranging from Tiki places to famous bars like Clyde Common where Jeffrey Morgenthaler is still mixing, not to mention the Multnomah Whiskey Library, and it is here where I met Kyle Sanders. With his mellow character, he fits perfectly in this whiskey heaven, nestled in the middle of town, feeling more like a place high in the hills of Northern Scotland than the middle of Portland, Oregon.
About
Kyle grew up in a small town in Western Colorado called Montrose. After graduating from high school, he studied English at Colorado State University. Like many others, he started out working in restaurants and bars to support his studies. This experience developed Kyle's taste for the hospitality scene. After college, he continued to develop his interest in a bartending career. Then came a period of wild tales and life experiences, including a stint at a fly-fishing ranch, two ski resorts, and two city hops. After the last move to Portland, Kyle found his next challenge: the Multnomah Whiskey Library, a prestigious bar with plenty of history, and not an easy place to get into. Surveying the scene, he worked at the nearby Kask bar before he found his way into Multnomah, where he has now been working for several years.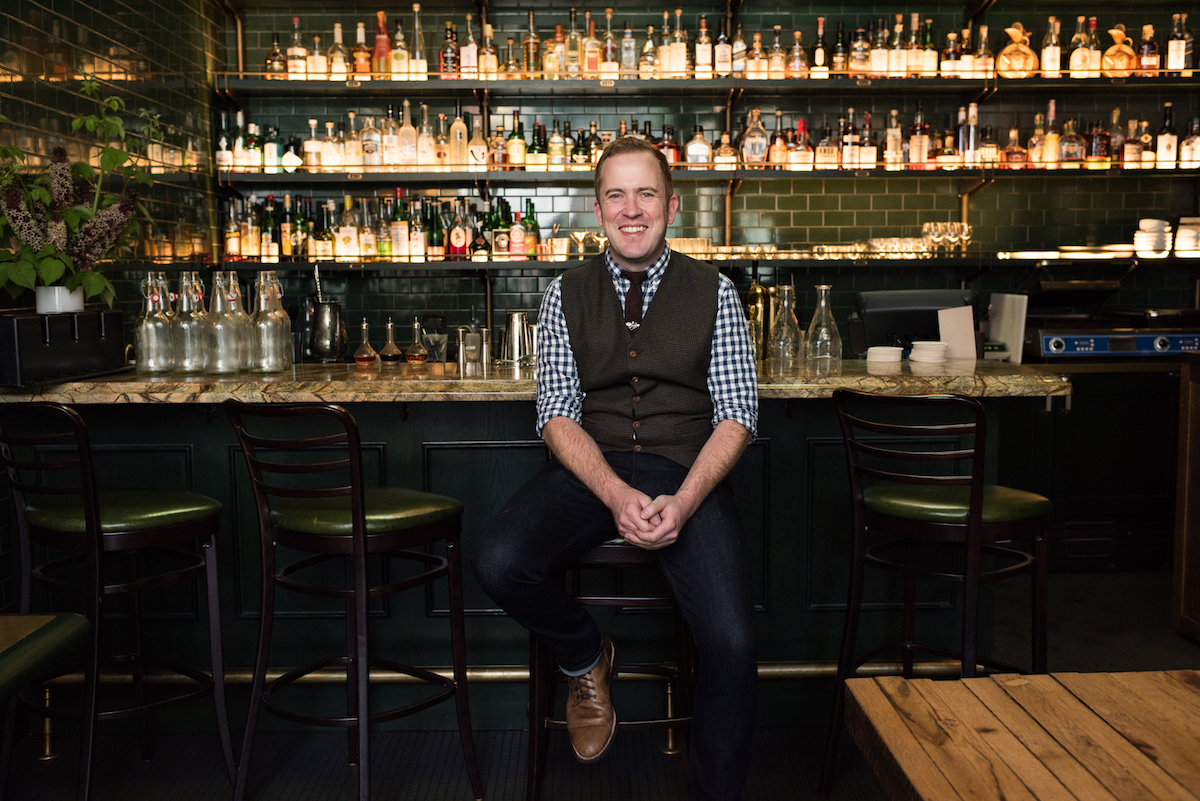 Multnomah Whiskey Library
"It is a special place," Kyle explains. "We have a huge whisky collection and are very spirit-focused." The service plays an integral part in creating a personal and intimate atmosphere. Bartenders come to your table with elegant carts, preparing the drinks directly in front of the guests. Shaken cocktails are prepared in the middle of the room at the central bar. The place has the vibe of a gentlemen's club with a prohibition-era flair, including large Chesterfield sofas, lots of wood, and old paintings to set the scene. Multnomah offers seventy seats in total. The Bar operates a seating-only policy to prevent a crowded feel, making it a relaxed place with lots of attention to detail, which sets it apart from any other bar in town. Each bartender receives two hours of training per week in order to continually broaden his knowledge of the huge collection of spirits. The aroma of fine whisky literally wafts through the air.
For an even smoother and more sedate experience, and to help alleviate the long wait times for the Whiskey Library, they decided to open the Green Room. It is situated at street level, in front of a recessed library, and continues the aesthetic theme of the original place, with a wall of royal green tiles behind the bar, underlining the elegant and British feel of the place. "We are getting busier and busier with more tourists coming to town," Kyle concludes. The Whiskey Library offers a membership program, which allows members to make reservations ahead of time as well as offering several other benefits like special tastings with master distillers from all over the world. For everyone else the Library works on a first-come, first-served basis, and it's well worth the wait no matter how long it is.
Favorite cocktail
It had to be something that involves a fine whisky, and I could totally understand Kyle's choice—a Penicillin. Sam Ross's creation never disappoints, if well executed: the first cocktail that successfully incorporated a smoky single malt whisky without ruining it. The ginger and honey underline the refreshing but complex composition. It is a perfect symbiosis of spiciness and smokiness, but at the same time a very casual cocktail, and that's why Kyle loves it.
Check out Kyle's recipes: Scorpion's Tail and High Hopes.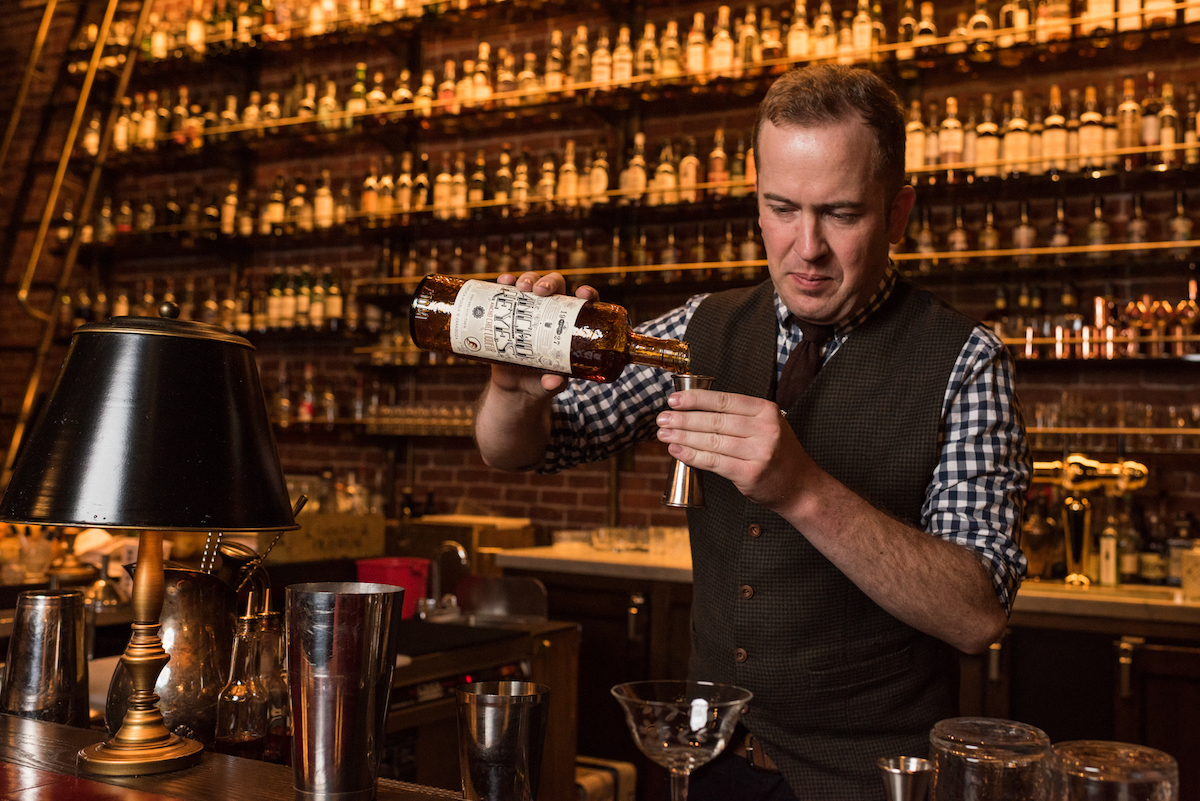 Favorite bar
Shift Drinks in Portland. It is an industry geared bar and Kyle is good friends with the owner. It has a great spirit selection and amazing bar menu. He shows great admiration for the owner and sommelier Anthony Garcia.
The future of the bar world

"We have seen big developments and lots of change over the last fifteen years," Kyle explains. He thinks that classics will stay a focus for future bartenders, and further emphasis will be placed on where products are coming from and how they are made. The customer is looking for transparency and a story behind the product. In the bars, service will remain pivotal. A bar can set it-self apart from others through excellent hospitality and service. It all comes down to a motivated, friendly, and knowledgeable staff.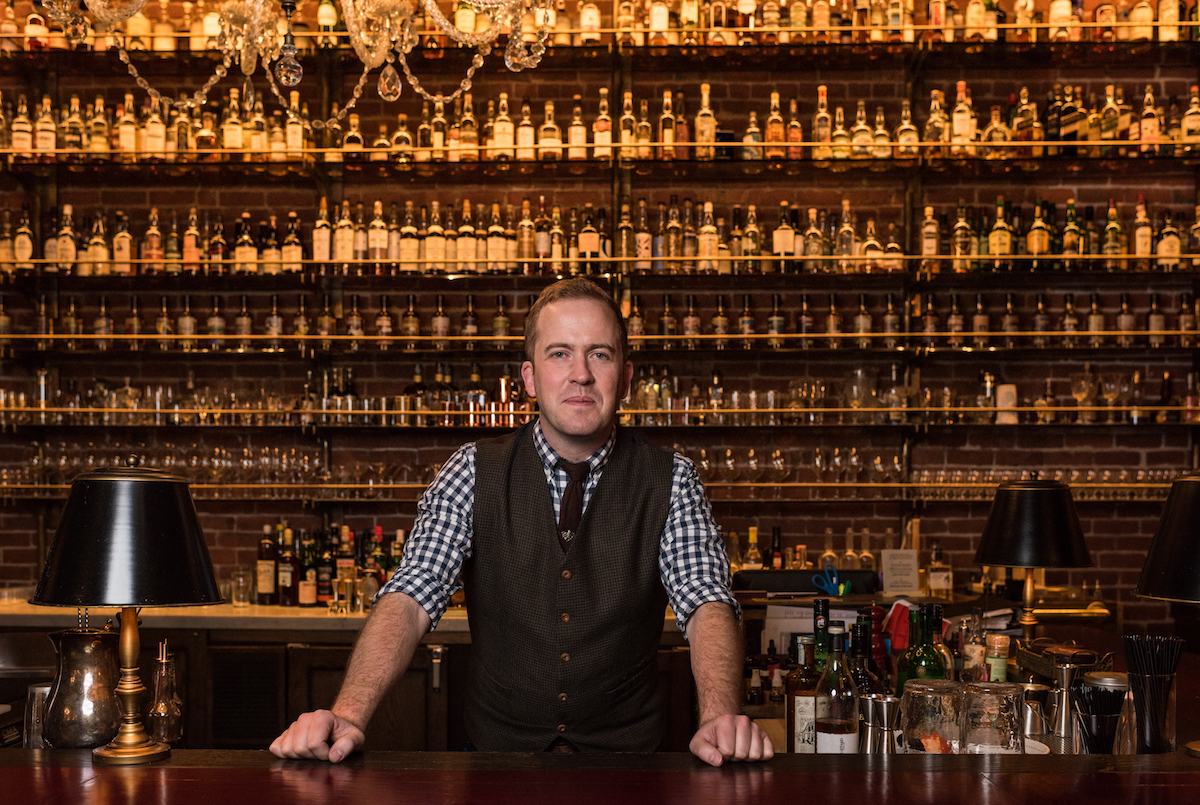 Craziest customer experience
In 2008 Kyle was running a late-night shift in a bar called 9380 Prime located in Crested Butte, when two guys in the bar started an argument with each other. Taking action, a female bartender put one of the individual's beers on a separate table at the opposite end of the bar in order to separate the two. The argument calmed down, but it wasn't long before they started yelling again—this time across the whole length of the bar. One of the two, a large cowboy-type of a guy, stood up and walked over to the smaller guy who had got reseated. Security acted quickly, stepping in and escorting the smaller of the two wranglers outside. Kyle, who had been observing the whole thing from the sidelines, found himself left alone with the big cowboy dude.
Apparently the big guy still had some aggression he needed to release, and so he started threatening Kyle to the point where he held him up by his shirt and, like in a movie scene, shouted: "You want a piece of me?" With a rush of adrenaline Kyle answered, "Nope, I don't, you just need to leave the bar . . . right now!" To Kyle's surprise, he managed to get him outside, but due to his lingering aggression, the guy started instantly looking for the next guy to continue his beef with. Kyle followed him until the police arrived and Tasered the cowboy to put an end to his Mexican standoff ways.
Portland

"It's a fun city. Very much an industry town for bar culture. It feels a bit like my Colorado home. There is so much to do and something for everybody, especially if you love outdoor activities." Kyle plans to stay put for now, although despite Portland being called the most livable city in the United States, he thinks that it has become increasingly expensive, especially the housing market, like many of the hippest places.
Target in life
To fulfill his dream and open a beer brewery. Kyle came to the right town Portland has many microbreweries and is known as the best city for beer. One can be curious.
Images: Dina Avila