About
Originally hailing from New Zealand, Thor Bergquist started working in the hospitality industry early—when he had just turned sixteen. He is now thirty years old and co-owner of PS40 and PS Soda in Sydney, along with his business partner Michael Chiem. During his first few years of working in New Zealand he held a multitude of roles in a multitude of venues, from brewing coffee in a local café, working as a kitchen hand, bar, backing drum-and-bass nightclubs to working at a punk rock venue. However, it wasn't until Thor moved to Melbourne that he started taking his career seriously. He was fortunate enough to land a gig at renowned bar Der Raum and had the pleasure to work with some of the most inspiring people—people that were absolute professionals, but at the same time didn't take anything too seriously. According to him, it was an amazing workspace full of creativity and fun. Thor worked alongside Luke Whearty, who now owns Operation Dagger in Singapore, also featured in this book, and James Tait, the owner of the former Gin Lane in Melbourne, amongst a few other local legends. Another colleague was Matthew Bax, the owner who also headed Singapore bar Tippling Club together with chef Ryan Clift.
Der Raum was an amazing challenge to all who worked there, constantly pushing the boundaries of creativity in terms of ingredients and techniques and heavily inspired by Fat Duck, Noma, and El Bulli at the time. They often hosted or collaborated with restaurants for themed dégustations. While at Der Raum, Thor also had the opportunity to spend time at the Tippling Club in Singapore, where he learned how restaurants worked and how that could be applied to bars from both a creative and technical perspective. Combining Der Raum's drink style with Ryan's food pairing, they matched flavors and created unique experiences long before Singapore had become the drinks destination that it is today.
From Melbourne and Singapore, Thor moved to London, where he was offered a job at the new Experimental Cocktail Club (ECC) under Nico de Soto, eventually becoming general manager. He was then transferred to help run ECC's New York branch, and these were his first experiences of working in high-volume cocktail bars, having the speed and atmosphere of a club along with the creativity and flair of a cocktail bar, Thor explains.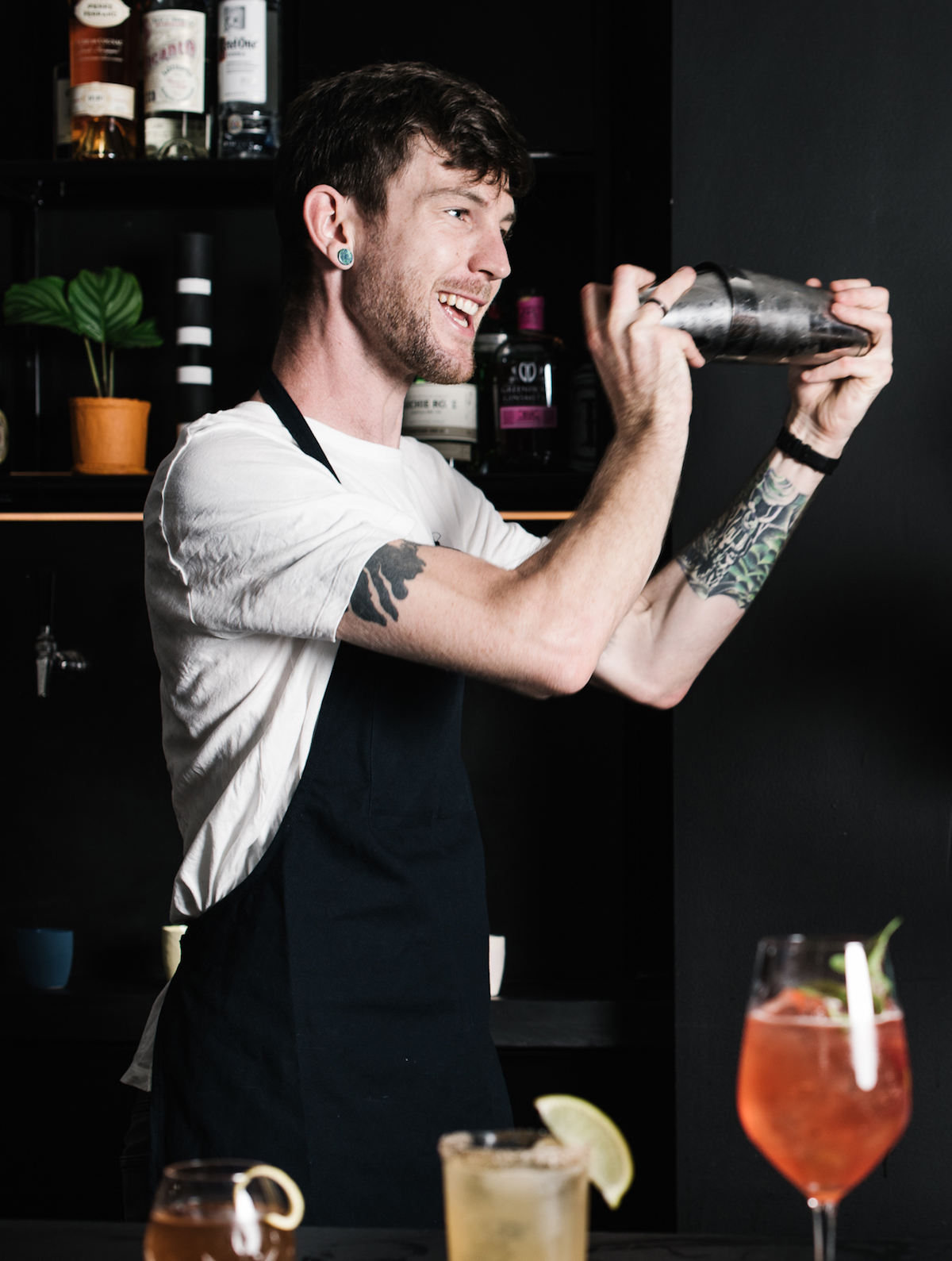 PS40
Having returned to Australia, Thor now co-owns PS40 in Sydney with Michael Chiem. The bar was designed by Thor's wife Livia Lima. This is where they create, bottle, and distribute their own range of PS Soda mixers to bars and restau­rants in Sydney and Melbourne. Everything is made by hand, using local produce with an emphasis on working seasonally. Their core range is designed to be mixed with alcohol and uses Australian produce and native ingredients. The series includes, for example, Wattle Cola—wattle seed, which replaces the coffee extract used in most colas, with a coffee/hazelnut/marzipan flavor, combined with vanilla, nutmeg, cassia bark, coriander seed, lavender, citrus peels, and kola nut; Blackstrap Ginger—Australian ginger with black-strap molasses, pimento berries, lemon juice, and Murray River salt; Smoked Lemonade— smoked water, citrus juice and peel, rosemary, pink salt; and Bush Tonic—native lemongrass and lemon myrtle, citrus peel, and cinchona bark.
The team also creates seasonal flavors when ingredients have a limited season, such as their returning January edition, which includes a cream soda with Tonka bean and Shiraz pomace from a local winery.
Inspiration
Thor's inspiration for drinks comes from traveling and exploring different cities and different countries. Seeing how people eat, what they drink when they wake up, what they drink when they go to sleep, how they dance, how they make perfume or herbal medicine, how people use what's around them to make that medicine, and so on. He is really interested in different cultures, in history, and in how people experience events.
Favorite bar
Dram in New York. Rock'n' roll/metal/punk music and great drinks and food. It's this weird contrast where these punk rock kids took over a cocktail bar and pulled it off!
Favorite cocktail
Sazerac, simplicity in its finest form.
Check out Thor's recipes: Matcha Sazerac and Tonka Parfum.
The future of the bar world

It's amazing to Thor to see new concepts coming out. Trash Tiki is an awesome new concept and such an inspiration, and we're really seeing bars diversify into other areas. You see venues now using their daytime hours to produce or distribute something to others and make the most of what they have, Thor explains.
Advice for opening a bar

Make sure you know what you want, have a clear idea of your final destination before you even start. If you are not 100% of something it will be diluted through the process. Also make sure you take a nice long holiday before the build is finished, as it doesn't stop when you open the doors.
Craziest customer experience
There was plenty of celebrity encounters at both ECC's but the best would have to be a long-term customer experience. Thor's first regular was Ollie Bassett, who he met in 2008 working behind the bar in Auckland. They quickly became friends and at the time Ollie only drank vodka. Over the years Thor has been able to open Ollie up to pretty much anything! Except for Tequila, he still hates Tequila although he slips it in Ollie's drinks every now and then.
Sydney

To Thor, the city keeps a fine balance between professionalism and serenity; it's rare to find such a good bar and restaurant scene close to some of the most amazing beaches in the world. Thor has learned in his time that work isn't everything, you need to lead a balanced life if you want to run a bar and lead a team.
Target in life
Thor wants to work in different markets, getting to know cultures, traditions, techniques and ingredients in food and drinks. Whether that's with bars or sodas or something completely different. He loves finding new ways to create and to taste.
He wants to take the sodas across the world and work with different cultures to create new flavors using native ingredients having PS40 pop ups everywhere!
Best decision in life
Quitting drinking ironically! It was just getting in the way of him running his business. Thor already doesn't sleep enough but to be able to juggle his personal life with his wife. Running the bar and releasing a product Thor doesn't have the luxury or energy to go out. Now, he is much more efficient, able to focus and concentrate on what's important to him.