About
Lorena was born in 1991 in a small Bavarian city called Eichstädt. Her first contact with bartending took place when she was fifteen years old and was part of a group who ran a bar at the city's annual festival. In 2010 she went to Halle to study biology. It was Lorena's wish to keep working in bars alongside her studies, so her first six months' stint was at a music bar in Halle called Flower Power. She was only working nights, which was tiring, and the bar mainly served beer, shots, and a Cuba Libre here and there. The next stop was a restaurant and bar called The One. They served the odd cocktail like Sex on the Beach, but there was not much creativity involved—it was mainly food, milkshakes, and long drinks. Lorena liked being in the hospitality industry, and bar keeping became more and more of a passion. The world of gastronomy was always more important to her than her studies, but she finished her Bachelor's degree nonetheless and in 2014 moved to Hamburg. Halle had become too small and too boring. Hamburg was much bigger and she did not know anybody there—exactly what Lorena was after. She felt—a feeling at least partly induced by her parents—that one could not (or should not) make a decent living by bartending full-time. She started a research position with a small foundation, but it was poorly paid work and she did not enjoy it very much. Therefore, she started to study again, as she always wanted to learn Italian and it also allowed her to go back to bartending. Lorena started to work at Café Kostbar and stayed there for three years. Besides the rather cozy Café Kostbar she also worked events at Festplatz Nord as she needed the fast, high-volume party life and, as she admits, is pretty fond of drunk people. During these three years in the city, she began drinking quality cocktails as her network of bartender friends grew bigger and bigger. Her Bachelor's degree in Italian ended in 2017 and she decided to move to Padua for six months. During that stay, she spent a lot of time reading and learning about bars, and she often visited a place called Barcode, where she regularly spent most of her savings to imbibe. When Lorena returned to Hamburg, Café Kostbar was no longer enough for her. She started at a placed called Familieneck, but it was not a creative enough environment for her and she felt too tightly controlled. After only six months she left. Through Diageo she was able to take a two-and-a-half-months-long theory course called "Learning for Life" where she learned what was needed to work at her first proper cocktail place and through a friend she joined the recently opened Drilling in 2018.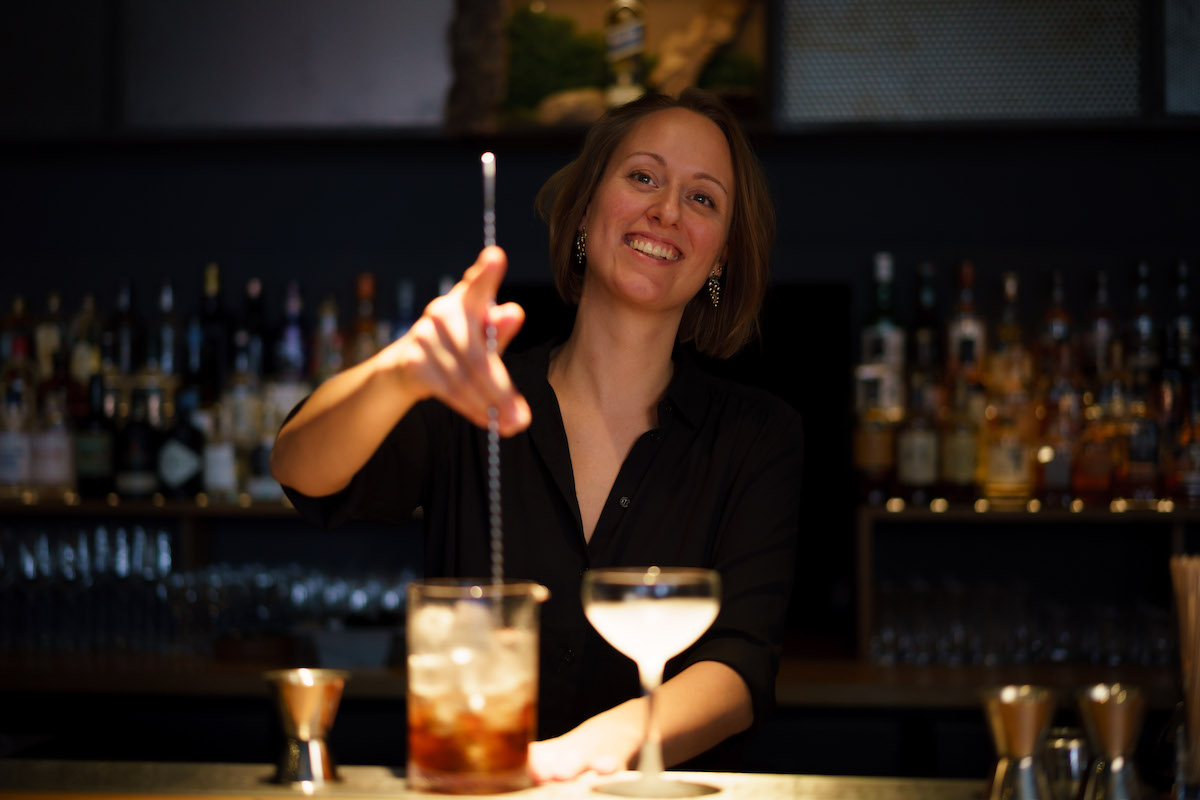 Drilling
Drilling is a distillery, cocktail bar, and specialty coffee place. The newly opened bar allows people to learn more about spirits, cocktails, and coffee. The distillery produces gin, various other spirits, and even a whisky. Drilling is a place where experiments are allowed. Since a lot of housing and business developments are happening in and around Bahrenfeld, the Hamburg city quarter where Drilling is located, which makes for a varied—and exciting—crowd. The bar has seats for 60+ guests. The menu shows various signature cocktails with their own spirits from the distillery—classics, and there is the possibility to be inspired by Sour or Old Fashioned varieties, which are selected by throwing two special dice. The team consists of four now but will be expanded in the near future.
Inspiration
Lorena draws inspiration from other barkeepers she visits and through drinking cocktails. She loves spirits and loves to read about them. Finally, yet importantly, her guests and their choice of drinks inspire her. All this leads to new ideas for new cocktails, and Lorena loves to see the guests' reactions.
Favorite cocktail
The Perfect Martini with a dash of bitter. Lorena loves to drink it after work. The cocktail revives you and gives you a push. With this drink, it is easy to discern if a bartender understands the guests. It is, so to speak, a character test for bartenders, showing how well they can interpret the guest's wishes.
Check out Lorens recipes: Lorena's Cosmopolitan and Negroni al Pistacchio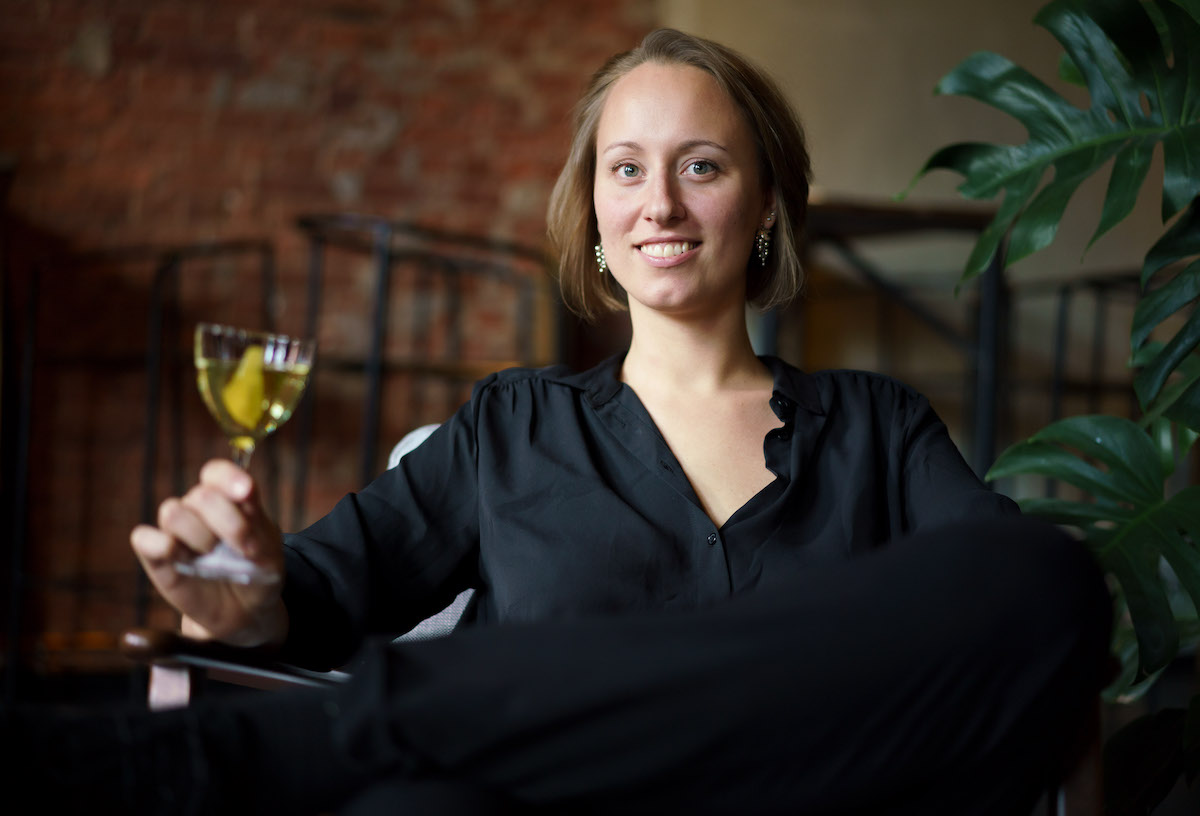 Favorite bar
Park Hotel Bar in Gütersloh, Germany. Lorena has never felt so welcome and well-entertained as in this bar—a remarkable experience for her. Hospitality was key at this place. It was not necessarily the bar where she had her best drinks ever, but it was all other things that made her experience there a perfect one.
The future of the bar world
There will always be many bars for non-cocktail drinkers. Just like in the upscale gastronomy scene, cocktails will always be a niche interest that many are not ready or willing to dive into. Of course, there is a trend and there are more people following it now than there were before, but the masses will never understand the mixology world. Lorena would like for people to break out of their habits of rum and coke and think deeper about why and what they are drinking. People's focus should be on indulgence and pleasure rather than habits and drinking for the sake of drinking.
Hamburg
For a short while now, this has been home. Hamburg is open-minded, exciting, and repeatedly reinvents itself anew. It is very multicultural and your thoughts and actions are more unrestrained here.
Goal in life
Live every day to the fullest so you would not regret missing out if you died the next day.
Best decision
To go with the flow. To have peace of mind and let things happen as they will. Making the best out of a situation and ban negative stress from your life.
Images: ©Tim Gerdts