When I came to Sydney, which is far away from home, I had to visit all the great cocktail bars the city has to offer but it was also clear that I want to take the opportunity to interview people from the local cocktail scene. When I saw the interior of Baxter Inn, I knew this would be an ideal spot. I was actually scheduled to meet with Brendan, who for some reason did not make it back to the city in time. So only with luck and a little help from the photographer I found my way down into the basement of this hidden gem. Rachelle, the only female bartender at Baxter Inn was willing to jump in for Brendan, which turned out to be a very fascinating encounter. How does a talented young woman with a business degree find her way into this men's world? You are about to find out!
About
Rachelle is now 26 years old and was born in Sydney and also did her schooling there but before she was living all over the place from Scotland to Switzerland, where her roots lie, continuing to Malaysia and Bahrain. She was following her father who is an architect. After finishing her business degree, she went travelling for 18 months and eventually started working for a music venue company for 2 years. The need for travel always came back so she went again and in-between started working for Frankie's Pizza, an underground booze and pizza place with rock n'roll music and a wide range of pinball machines. Ultimately she went travelling for 6 months but was interesting in working for Jason and Anton again who, besides Frankie's Pizza, own Shady Pines and The Baxter Inn. All very successful places in the city! She got offered a job at Baxter Inn and was trained as a bartender. Not an easy task since the whisky list is huge and Rachelle did not have any experience when it comes to spirits and cocktails back then. Her trainers were hard on her, she learned a lot on the job but also read books while she was off. She was a quick learner. This is 2 years ago now and she is a full time bartender and asserts herself very well in this men's world at Baxter. "I must have done something right as I am still working here", she concludes.
Inspiration
The Baxter Inn is a very specific bar. Inspired by the gangs of Boston, it resembles a secret place where gang members hang out. The likes of Whitey Bulger would sit in such a bar in Boston to conspire with fellow members. Boxing memorabilia all over the place, a vault, candles and dimly lit are just a few details to find at Baxter. It should be inspiration enough to come up with new cocktails. "The menu has to fit the bar, so you cannot go too crazy", Rachelle explains me. There is a small cocktail list at Baxter as most guests come and drink neat. The management carefully selects what finds the way on the menu but the team comes up with creative solutions. There is always teamwork involved. "You might start with an idea on your own and continue to develop with a fellow bartender", Rachelle tells me. She gets inspired by new spirits that she tries, by talking to international bartenders or just reading books. Local food products are a further source for inspiration.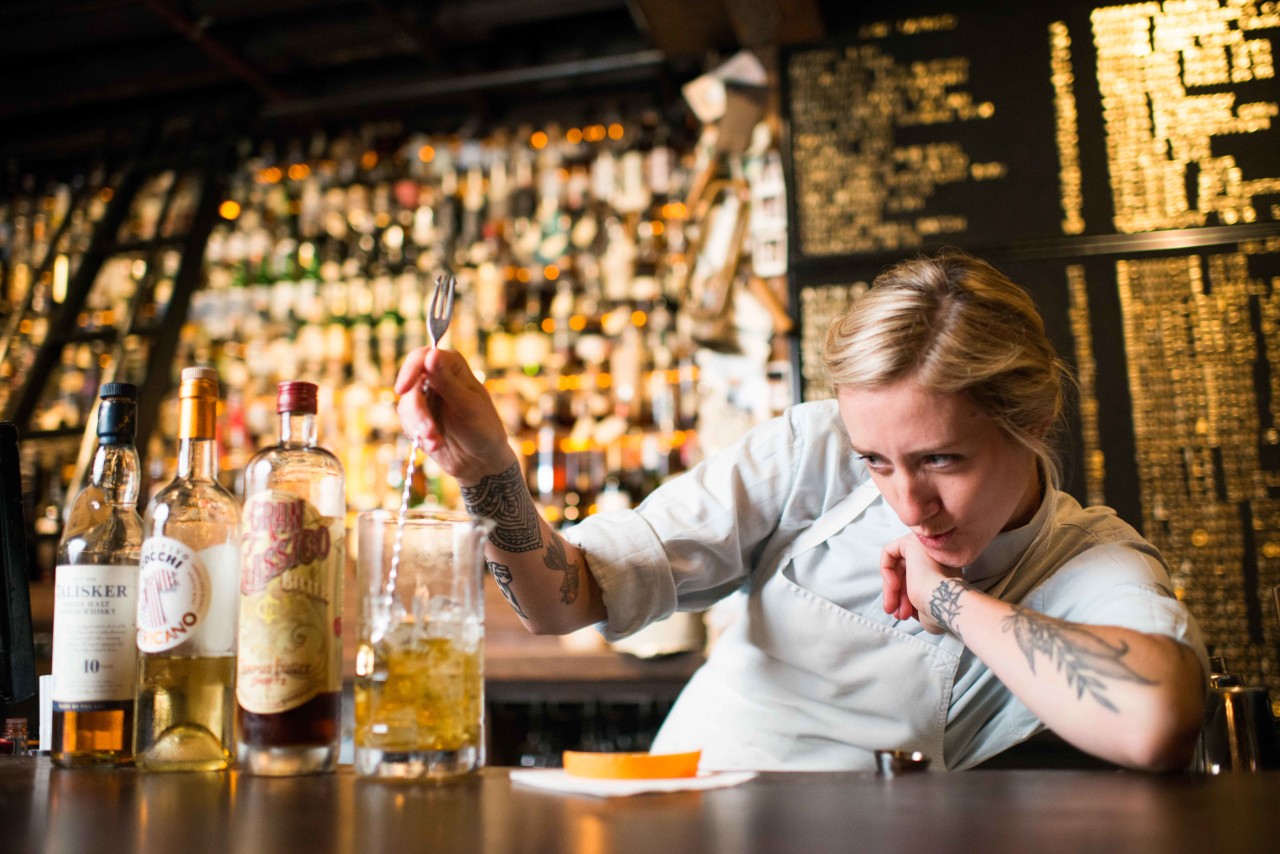 Favourite Bar
It is hard to find time to visit other bars when you work in a bar but Rachelle definitely enjoys a good night out or a cosy bar in the afternoon too. She is not too critical when going out but it is hard to turn the professional eye off. She mainly likes to relax and drink something simple like wine or even beer. She does that best at a new place that recently opened in the Newtown district of Sydney called Continental Deli. They have an impeccable wine list, very nice cold cuts and excellent cheese. "Mikey, the manager is one of the most cheerful guys out there", Rachelle tells me. I had to see the place with my own eyes and went one afternoon to check it out. Small and beautifully done! Selected spirits, excellent canned products that have been imported from France and one hell of a Bloody Mary with a hint of sherry. Really tasty! Last but not least they do their own canned goods such as fish and seafood. If you ever go there; taste the canned Octopus, it is so tender it almost melts on your tongue – to die for!
Check out Rachel's recipe: The Calmac.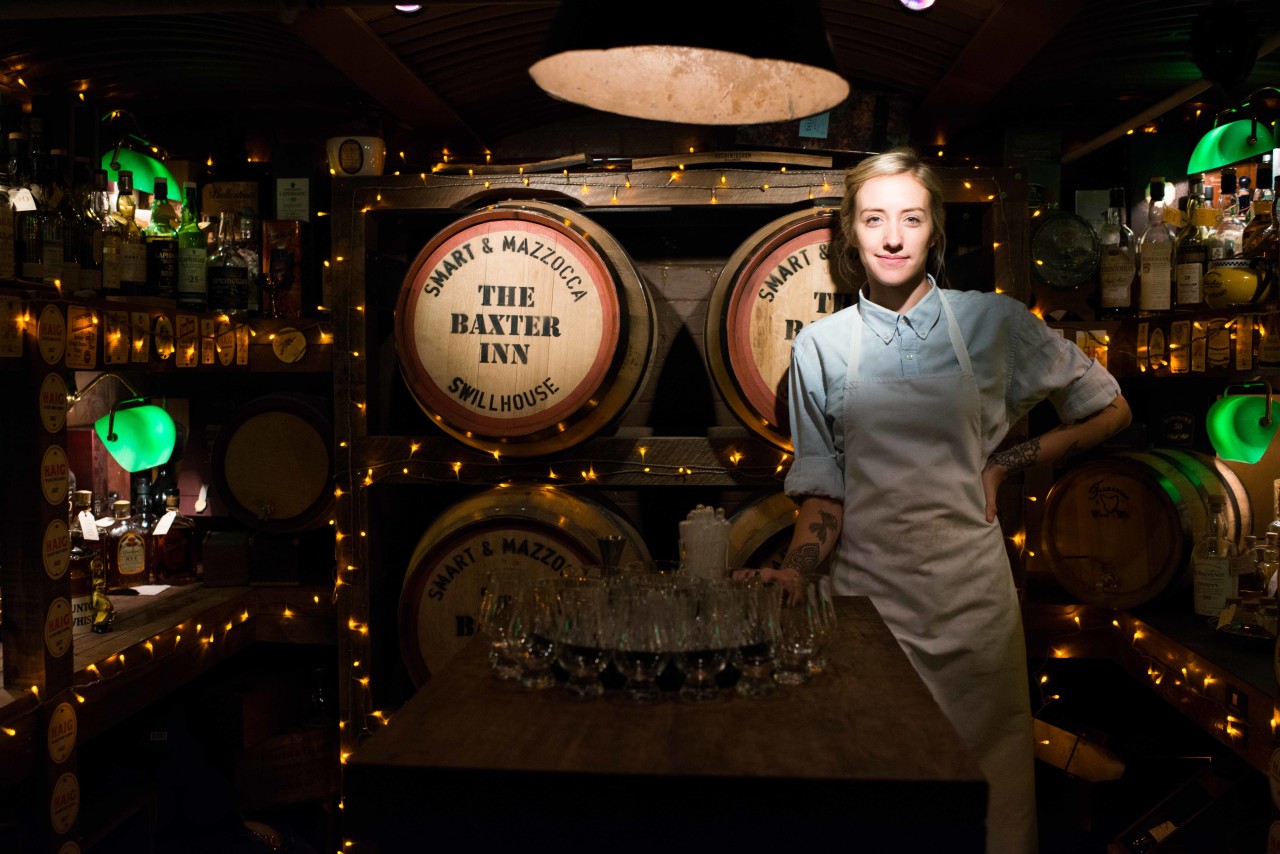 The future of the bar world

Sydney is a difficult turf nowadays when it comes to cocktail bars and other venues. Since the introduction of the lockout laws (http://www.nsw.gov.au/newlaws) around 2 years ago the city has changed a lot and I would say it did not for the better when it comes to nightlife. The honest and hardworking bar scene has suffered immensely under the reign of the government who introduced the laws and enforces them with an iron fist in the Central Business District (CBD) area of Sydney. Bars have gone out of business or moved elsewhere. Yes, the city has seen some violence in the past with their king hits maniacs and two people died a few years ago but neither of them were drinking nor was it late at night so it seemed to be a desperate act to get in control of the situation without making the calculation how it would affect a tough to survive industry. The law certainly provokes people to start drinking at home earlier and if that really helps the situation is questionable. Nevertheless, "The good bars are still innovative and new places are opening", Rachelle tells me. Getting a license is difficult and slightly discouraging. She feels strongly that there is a lot of refinement in drinks over the last years and it will continue that way. There is not only innovation at the venues themselves but also with the spirit producers. There are excellent products nowadays even from Taiwan but also from Australia and it ranges from Gin to Whisky. More people are becoming interested in spirits and are looking for quality rather than quantity. It is a good trend and you can see it all over the world.
Advice for opening a bar
The first thing that came up when I asked the question was: "Forget about sleep". You already have to be a night owl for that job but now it will drag into the day as you probably won't stop working behind the bar while working on the project. Most can't afford that. Really know what you want, know your concept well, don't take any shortcuts and focus on attention to detail. Rachelle must know best as she is in the middle of doing her own venue together with a fellow bar member. She is 6 months in the project and the place is due to open in one year's time in the CBD Area of Sydney. One can be curious!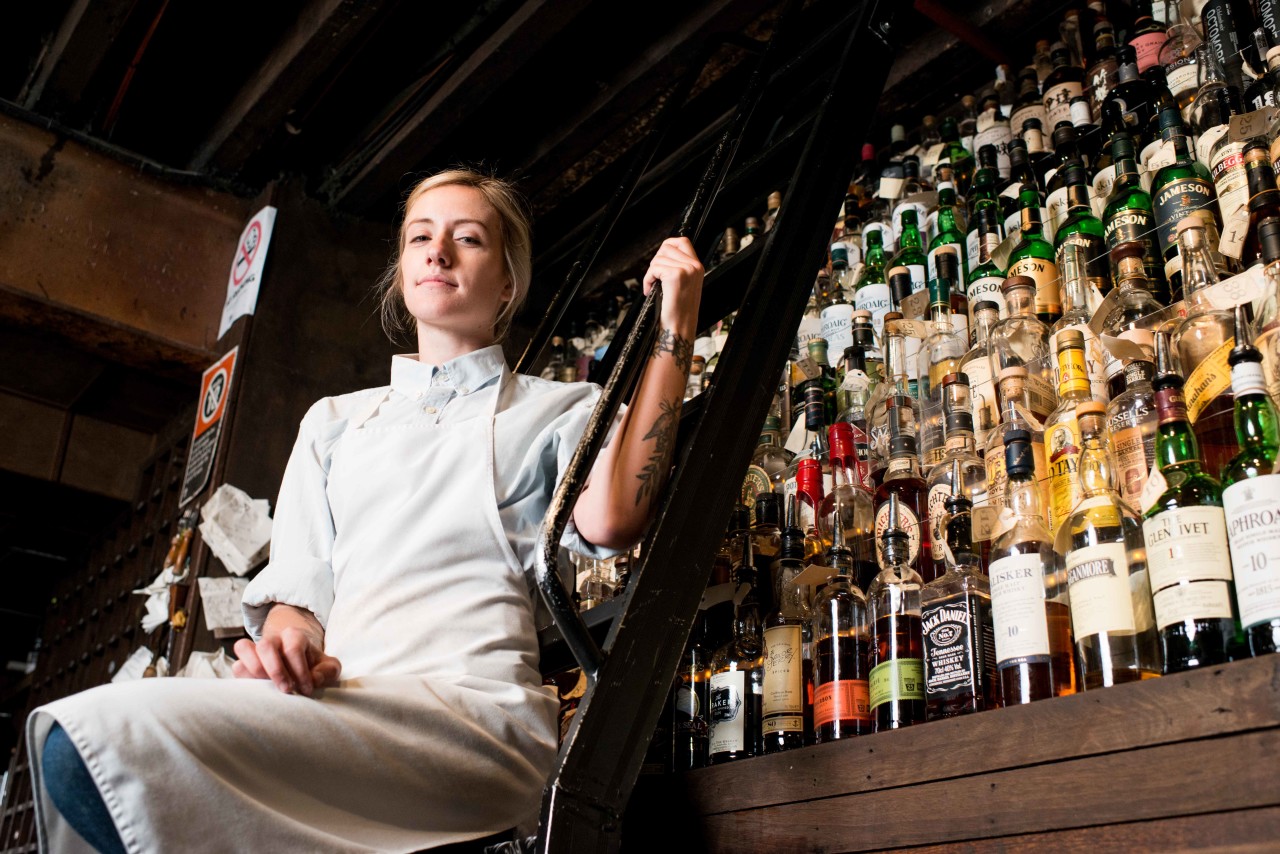 Craziest customer experience
When she was working at Frankie's Pizza there was a client that demanded ice in his whisky. She said no problem, went for the ice and gave it to him. Apparently the guest was upset that he was not offered the ice in the first place. He stood up, pulled his pants down and started peeing on the bar top in front of all the other guests. When he was finished he wiped his hand on his penis and wanted to shake hands with Rachelle. An unbelievable story! I guess everybody was happy when she threw the guy out of the bar.
Sydney for her
Despite all her travels and roots, she calls it home. She loves the city and always keeps coming back to it. It has a fantastic lifestyle. There is the splendid harbour, the laid back beaches and the vast cultural diversity. "The Aussie attitude is just very relaxed", she concludes.
Target in life
Get away from people at one point! Buy a rural property, a small farm and raise a lot of animals. It sounded like a naïve wish at first but when you have such a lively job it is very understandable to have such a target in life.
Dislike
Rachelle does not like pretention in bartending and I could very well understand her. "You serve guests and not your own ego", she explains. A thing that rock star bartenders tend to forget!
Update: Rachelle does not work at the Baxter Inn anymore!
Images: Oscar Colman